Kenyans Have Had it With Corruption, Threaten to Demonstrate
Kenyans have expressed their frustrations at the perception that corruption has become an accepted way of life in the country and that those who squander the opportunity to loot public funds are viewed as failures. The media has been awash with stories of graft scandals involving the National Youth Service, Youth Enterprise Development Fund and National Cereals and Produce Board over alleged misuse of public funds, hoarding of subsidised fertiliser and frustration of farmers who supply maize to the government.
Kenya: Kenyans Plot Demos Over Graft Scandals

Nation, 25 May 2018

Social media users in Kenya have expressed concern over "normalisation of corruption" and have called on Kenyans to hold demos on the eve of Madaraka Day and boycott the… Read more »

Kenya: From Rags to Riches - a Story of NYS Air Supplier Ngirita

Nation, 25 May 2018

When Ms Ann Wambere Wanjiku Ngirita, 30, sat her Kenya Certificate of Secondary Education examination in 2008, she did not know that she would one day be fabulously rich; that fame… Read more »

Kenya: Kobia, Lilian Omollo to Face MPs Over NYS Billions

Capital FM, 25 May 2018

Public Service Cabinet Secretary Margaret Kobia and Principal Secretary Lilian Omollo are Friday expected to appear before Parliament's Public Accounts Committee over the Sh9… Read more »

Kenya: How Crooks Looted NCPB at the Expense of Farmers

Nation, 25 May 2018

Details of how distribution of government subsidised fertiliser and payment for maize supplies by farmers to the National Cereals and Produce Board (NCPB) were compromised by… Read more »

Kenya: The Woman Who Supplied Air to National Youth Service

Nation, 24 May 2018

If you thought the case of Josephine Kabura - the hairdresser who confessed to lugging sacks of National Youth Service cash - was shocking, wait till you hear about Ann Wambere… Read more »

Kenya: Sh1m Tyre - Top 5 Most Outrageous 'Supplies' in Season Two of NYS Scandal

Nairobi News, 24 May 2018

Following the premiere of 'Season Two' of the National Youth Service (NYS) scandal, preliminary investigations by the Directorate of Criminal Investigations (DCI) have revealed an… Read more »

Kenya: MPs Reject NYS Sh22 Billion Budget Plan Over Scandals

Nation, 23 May 2018

MPs have rejected a request by the National Youth Service (NYS) to be allocated Sh22 billion for its budget for the 2018/2019 financial year due to numerous scandals at the… Read more »

Kenya: Firms That Gained From U.S.$ 90 Million National Youth Service Scandal

Nation, 18 May 2018

Some of the companies that are under investigation over the possible loss of Sh9 billion at the National Youth Service (NYS) have had previous controversial dealings with the… Read more »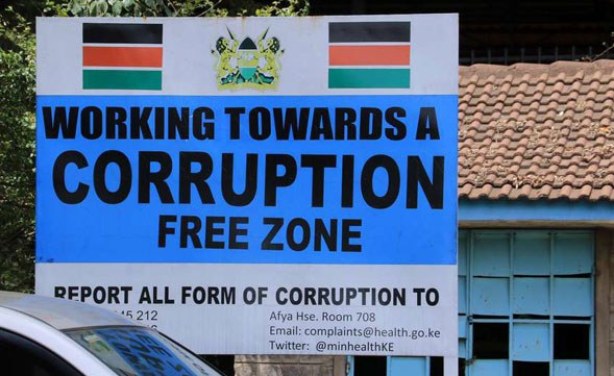 This image taken on October 28, 2016 shows a banner outside the Ministry of Health warning against corruption.
InFocus
A study conducted by the Ethics and Anti-Corruption Commission in 2016 indicates that most bribes are paid at police stations, county health departments, chiefs' offices, Office of ... Read more »

Detectives have launched investigations into the mysterious death of former Youth Fund Chief Executive Officer Catherine Namuye. Namuye and former board chairman Bruce Odhiambo ... Read more »