How Many Hearts Did This Kenyan Pathologist Steal?
Judge Florence Muchemi has ordered former government chief pathologist Moses Njue to appear before the Directorate of Criminal Investigations over allegations that he stole Benedict Karau's heart, or face arrest. Njue and his son Lemuel Anasha Mureithi are also facing charges of stealing Timothy Mwandi Muumbo's heart during an autopsy on June 25, 2015.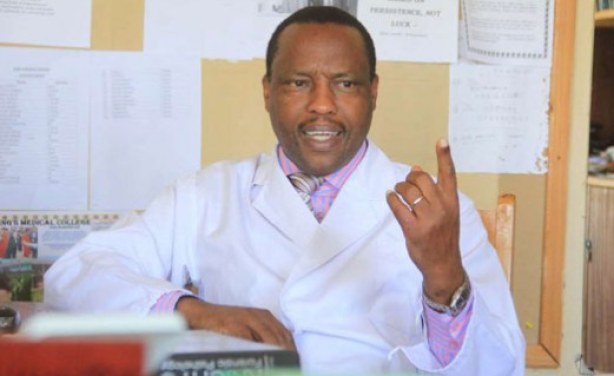 Moses Njue during an interview in his office at King's Medical College in Nyeri County on February 18, 2015.
Kenya: Why Pathologist Accused of Stealing Body Parts Wants Case Stopped

Nairobi News, 21 May 2018

Former Chief Government Pathologist Moses Njue, who is facing prosecution for stealing body parts, has now moved to the High Court seeking to stop the criminal trial at the… Read more »

Kenya: Dr Njue Seeks to Stop Charges of Stealing a Heart

Capital FM, 21 May 2018

Former Chief Government Pathologist Dr Moses Njue is now seeking to stop his prosecution over among other charges include stealing a heart. Read more »

Kenya: Pathologist Njue Denies Stealing Dead Man's Heart in Nairobi

Nairobi News, 16 May 2018

Former Chief Government Pathologist Moses Njue on Tuesday denied stealing the heart of a corpse at Lee Funeral Home three years ago. Read more »

Kenya: Ex-Pathologist Njue's College Hit By Illegality Claim

Nation, 16 May 2018

A Nyeri college owned by former government chief pathologist John Njue continued teaching a course it was prohibited, a court was told Wednesday. Read more »

Kenya: Ex-Chief Pathologist Njue Charged With Stealing Heart to Cover Up for Widow

Capital FM, 15 May 2018

A man whose job it once was to sleuth out criminal intent using clues left on the dead bodies that found their way onto his slab, could now find himself behind the very same bars… Read more »

Kenya: Controversial Doctor Faces Charges of Stealing Body Organs

Nairobi News, 29 April 2018

Former Chief Government Pathologist, Dr Moses Njue, could soon be charged in court after the Director of Public Prosecutions (DPP) directed his arrest and prosecution for stealing… Read more »