The Fight So Far In Kenya's Massive Corruption Case
24 suspects implicated in defrauding the National Youth Service which was set up by President Uhuru Kenyatta to assist unemployed youth, will spend at least a week in jail as they await a ruling on their bail application. Twelve of the thirty suspects who missed a court appearance complied with an order to turn themselves in and will appear in court on June 11 when they will be charged. Funds of between U.S.$8 million to U.S.$100 million were reportedly stolen from the Ministry of Devolution and Planning's budget.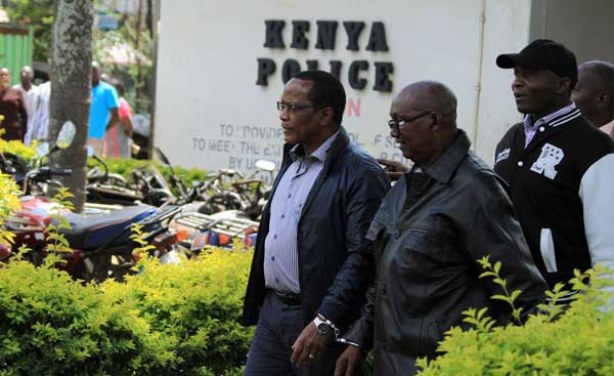 National Youth Service suspects leave Muthaiga Police Station for the Milimani Law Courts.
Kenya: Punish Guilty in Sh9 Billion NYS Scam, Say Envoys

Nation, 31 May 2018

Foreign diplomats accredited to Kenya and opposition politicians on Wednesday called for swift judicial action against those behind the corruption at the National Youth Service… Read more »

Kenya: NYS Scandal Suspects Given Deadline to Face DCI

Nation, 31 May 2018

Suspects named in the National Youth Service scandal have until 2pm Thursday to present themselves to the Directorate of Criminal Investigations as directed by a Nairobi court. Read more »

Kenya: NYS Suspects Have Until Thursday to Present Themselves to Police

Capital FM, 31 May 2018

More than 30 suspects linked to the Sh468 million phase one probe of graft at the National Youth Service (NYS) have until 2 PM Thursday to present themselves to the Directorate of… Read more »

Kenya: Western Envoys Pledge Support in War Against Corruption

Nation, 30 May 2018

Fifteen Heads of Mission in Kenya have asked the Judiciary to take swift action to ensure fair trials and justice in the recent corruption cases. Read more »

Kenya: Principal Secretary Lilian Omollo Falls Ill at Langata Prison, Admitted to KNH

Nation, 30 May 2018

Youth Affairs Principal Secretary Lilian Omollo was admitted to Kenyatta National Hospital on Wednesday morning after falling ill at Lang'ata Women's Prison. Read more »

Kenya: Bosses in Massive Corruption Case to Stay in Jail For a Week

Nation, 30 May 2018

Suspended Youth Affairs Principal Secretary Lilian Mbogo Omollo and National Youth Service Director-General Richard Ndubai and 22 other suspects implicated in the NYS scam will… Read more »

Kenya: NYS Scandal - 'Air Seller' Slays With Red Lipstick in Court

Nairobi News, 30 May 2018

Even in the embarrassing glare of media cameras, Ms Ann Wambere Wanjiku Ngirita, the prominent face in the multi-billion shilling NYS scandal, still values her posh looks. Read more »
InFocus
Twenty of the 54 suspects involved in the National Youth Service (NYS) scandal spent the night at various police stations in Nairobi after police denied them bail. The NYS scandal ... Read more »