Kenya's Black Gold Hunt Shows Results - 7 Years Later
Crude oil extracted in Turkana County will be stored in Mombasa, where it will be stored while authorities source viable international markets. This forms part of an experimental programme called Early Oil Pilot Scheme. It has taken close to seven years to get oil out of the fields since it was first discovered in 2012.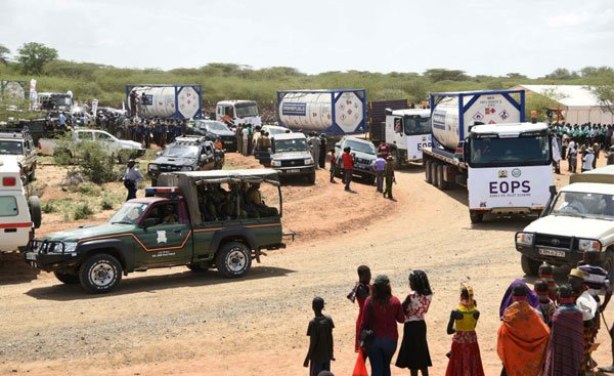 A police vehicle escorts trucks loaded with crude oil from Ngamia 8 oil fields in Turkana County on June 3, 2018.
Kenya: National Oil Inks Distribution Deal With Small Marketers

Nation, 29 May 2018

National Oil Corporation of Kenya (NOCK) has entered into a distribution partnership with small independent oil marketers in a move expected to provide credibility to hundreds of… Read more »

Kenya: Oil Exploitation - Kenya Joins League of Exporting Countries

Cameroon Tribune, 25 May 2018

Crude will be transported by trucks from the north-west of the country to the coastal city Mombasa for export. Read more »

Kenya: Bridge Hitch in Plan to Truck Oil From Turkana

Nation, 24 May 2018

The planned trucking of oil from Turkana to Mombasa at the beginning of next month could be in jeopardy as the road between Kitale and Lokichar has been cut off by floods. Read more »

Kenya: Turkana Agrees to Oil Revenue Sharing Ratios

Nation, 22 May 2018

Turkana Governor Josphat Nanok and Petroleum and Mining Cabinet Secretary John Munyes have asked local residents to allow the Early Oil Pilot Scheme to begin in June as scheduled.… Read more »

Kenya: 70,000 Barrels of Oil Ready for Kenya's Pilot Export

East African, 18 May 2018

Kenya has already stored 70,000 barrels of crude in Lokichar, Turkana County in the north, in readiness for transportation to the Port of Mombasa by specialised lorries for… Read more »

Kenya: Tullow Ready to Truck Crude Oil to Mombasa

Nation, 10 May 2018

Tullow is ready to transport oil from Turkana to Mombasa before the end of this month and is only waiting for the government's go-ahead, Country Manager Martin Mbogo has said. Read more »