Will President Buhari Sign the 2018 National Budget In this Year?
The Minister of Budget and National Planning, Udo Udoma, has said that the delay in the signing of the 2018 Budget into law by President Muhammadu Buhari is that he is scrutinising the Appropriation Bill passed by the two chambers of the National Assembly. No date for the signing has been given.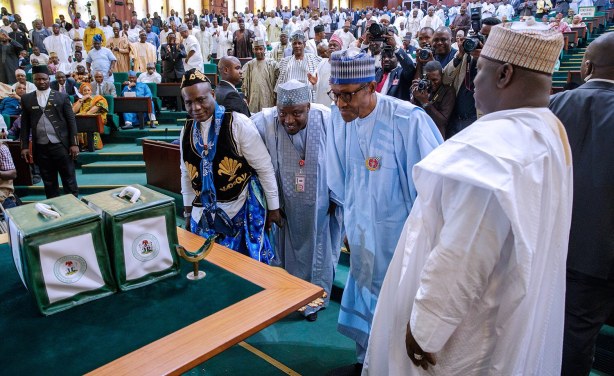 President Muhammadu Buhari.
Nigeria: National Assembly Keeps Budget Details Secret

Vanguard, 4 June 2018

The National Assembly is keeping the details of the 2018 budget top secret, despite jacking it up by more than 10 per cent. Read more »

Nigeria: Concerns Over the 2018 Budget

This Day, 28 May 2018

It is in the interest of everyone that the budget is signed into law Read more »

Nigeria: 2018 Budget - Matters Arising

Guardian, 5 June 2018

The widespread chants about delayed passage of the 2018 Budget were partly uninformed and partly orchestrated to shift blame for poor performance by MDAs. The commencement date of… Read more »

Nigeria: Buhari Begins Scrutiny of 2018 Budget

Vanguard, 4 June 2018

The Presidency Tuesday explained that the delay in the signing of the 2018 Appropriation Bill into law by President Muhammadu Buhari was because the President was scrutinizing the… Read more »

Nigeria: Buhari Scrutinising 2018 Budget - Govt

Daily Trust, 5 June 2018

The Federal Government said President Muhammadu Buhari is reviewing the 2018 Appropriation Bill recently passed by the national Assembly. Read more »

Nigeria: President Reviewing 2018 Budget, Says Udoma

This Day, 4 June 2018

Minister of Budget and National Planning, Senator Udoma Udo Udoma, said Monday in Abuja that President Muhammadu Buhari was currently reviewing the 2018 budget transmitted to it by… Read more »
InFocus
One week after the 2018 Budget was passed by the National Assembly, it has yet to be sent to President Muhammadu Buhari for his signature. Read more »

The Senate has passed a U.S.$29.8 billion budget for 2018, six months after its first presentation. The budget still needs to be returned to President Muhammadu Buhari to be signed ... Read more »