U.S. Denies South Sudan Regime Change Accusation
The U.S. envoy to Juba, Thomas Hushek,says his government would like to see a change in the behaviour of the leaders both in and out of the South Sudanese government, so that peace can be achieved.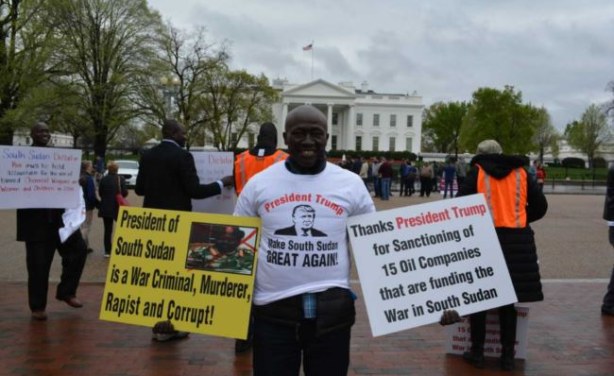 Demonstrators gathered in front of the White House in Washington D.C. to protest the ongoing war in South Sudan, April 16, 2018.
South Sudan: Armed With Poetry and Rap, Young Artists Battle for Peace

Thomson Reuters Foundation, 5 June 2018

"We have seen conventional activism failing. If it is for our country, we might as well get the information out. It doesn't really matter how, as long as we are not hurting anyone… Read more »

South Sudan: Why I'm Starting to Think Peace Is Possible

African Arguments, 30 May 2018

I've been one of a few refugee representatives allowed to attend the peace talks. I've seen that when South Sudanese own the process, there's hope. Read more »

South Sudan: Worst-Case Hunger Crisis Looming

Norwegian Refugee Council, 8 June 2018

More civilians are without food in more places than ever before in the history of South Sudan. An upsurge in fighting, lack of access and attacks on aid workers batters already… Read more »
InFocus
Former Kenyan Prime Minister Raila Odinga has said he thinks he can make a difference in the stalemate between President Salva Kiir and rebel leader Riek Machar. Read more »

As Africa's newest state, South Sudan was meant to be an example of what cooperation between the international community and African political actors could achieve. According ... Read more »