Buhari Is Plotting My Arrest, Detention, Obasanjo Cries Out
Former President Olusegun Obasanjo has said that there were plans to detain him indefinitely as punishment for speaking out against the government's maladministration and ineptitude. The claim is the latest twist after weeks of bitter exchanges between the two leaders, who fell apart after Obasanjo accused Buhari of corruption, and advised him not to seek re-election.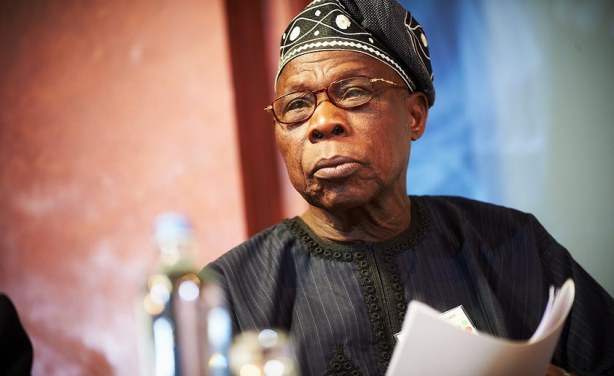 Former president Olusegun Obasanjo.
Nigeria: Govt Reacts to Obasanjo's Allegation, Says Only the Guilty Should Be Worried

This Day, 8 June 2018

The Federal Government has dismissed former President Olusegun Obasanjo's allegation that the Buhari administration was planning to arrest him on trumped-up charges. It said "only… Read more »

Nigeria: Atiku Speaks On Alleged Plans to Arrest Obasanjo

Premium Times, 8 June 2018

Former Vice President Atiku Abubakar has expressed concerns over the alarm by former President Olusegun Obasanjo that the Federal Government plans to arrest Mr Obasanjo on trumped… Read more »

Nigeria: Obasanjo Accuses Buhari of Planning to Arrest Him On Bogus Charges

Guardian, 8 June 2018

Former Nigerian President Olusegun Obasanjo has said there were plans by the Nigerian government to arrest him over phoney charges. Read more »

Nigeria: Buhari Plotting to Hang a Crime On Me - Obasanjo

Vanguard, 8 June 2018

Former President Olusegun Obasanjo has said that President Muhammadu Buhari's administration is plotting to slam false charges on him, to pave the way for his indefinite detention. Read more »

Nigeria: Buhari Is Plotting My Arrest, Detention, Obasanjo Cries Out

Daily Trust, 8 June 2018

Former President Olusegun Obasanjo on Friday cried out over allegations that the administration of President Muhammadu Buhari is planning to arrest him, saying his name is already… Read more »

Nigeria: Nigerian Govt Reacts to Obasanjo's Arrest Claim

Premium Times, 8 June 2018

The Nigerian government has reacted to an allegation by former President Olusegun Obasanjo that the Buhari administration was plotting his arrest on false charges. Read more »

Nigeria: PDP Worries Over Alleged Plot to Arrest Obasanjo

PDP, 8 June 2018

The Peoples Democratic Party (PDP) is alarmed by the revelation of former President Olusegun Obasanjo that the All Progressives Congress (APC)-led Federal Government is plotting to… Read more »

Nigeria: PDP, Atiku Warn Against Arresting Obasanjo

Daily Trust, 8 June 2018

The Peoples Democratic Party (PDP) and former Vice President Atiku Abubakar have warned the All ‎Progressives Congress (APC) led government against arresting former President… Read more »

Nigeria: Buhari Should Retrace His Steps On Obasanjo - Atiku

Vanguard, 8 June 2018

Former Vice President Atiku Abubakar has asked President Muhammadu Buhari to call the security agencies to order in order to douse the tension in the land. Read more »

Nigeria: Obasanjo Raises Alarm, Accuses Buhari of Plotting His Arrest On False Charges

Premium Times, 8 June 2018

Former President Olusegun Obasanjo has accused the Buhari administration of plotting to slam false charges on him, to pave the way for his indefinite detention. Read more »