Soccer! Rugby! Cricket! South Africa Dominates in Weekend Sports
Between the World Rugby Sevens Series finals, a 42-39 rugby test thriller at Ellis Park in Johannesburg, the Momentum Proteas ending a 15-year dry spell against England, Banyana Banyana's qualification for the CAF Women's Championship and Bongmusa Mthembu's defence of his Comrades Marathon title, South African sports fans had a lot to be excited about.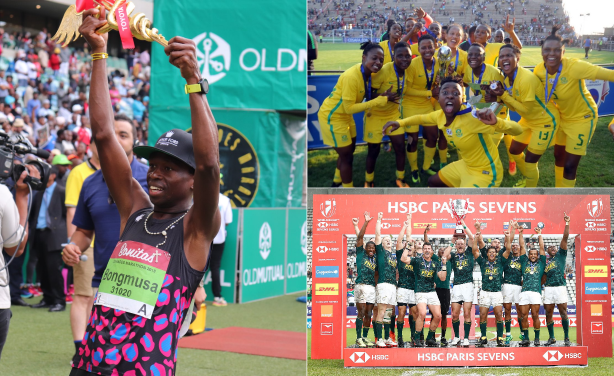 Left: Comrades marathon runner Bongmusa Mthembu celebrates his victory. Top-right: Banyana Banyana walloped hapless Lesotho at Dr Petrus Molemela stadium in Bloemfontein (file). Bottom-right: Rugby Sevens after their win at the Paris Sevens series.
South Africa: Momentum Proteas End 15-Year Victory Drought Against England in Landmark Win

Cricket South Africa, 11 June 2018

The Momentum Proteas broke their 15-year dry spell in England when they beat the hosts at home for the first time since 2003. The seven-wicket victory, which was set up by bowlers,… Read more »

South Africa: Siya Kolisi's Boks' Magical Night Out

Daily Maverick, 11 June 2018

Tests at Ellis Park are always magic. Sometimes, like on Saturday night, that magic tends to linger a little longer. The Springboks are far from the finished product, but the… Read more »

South Africa: Powell Credits SA Sevens Structures After Series Win

News24Wire, 11 June 2018

The Springbok Sevens team on Sunday did a French double by not only defending their Paris Sevens title, but in the process the Blitzboks also clinched a second consecutive World… Read more »

South Africa: Blitzboks Beat England to Remain Sevens Champions

News24Wire, 11 June 2018

The Blitzboks have defended their World Rugby Seven Series crown by beating England in the final of the Paris Sevens. Read more »

South Africa: Comrades Title Stays in South Africa Hands as Mthembu Defends Title

News24Wire, 10 June 2018

South Africa's Bongmusa Mthembu has defended his Comrades title, winning the 93rd edition of the race from Pietermaritzburg to Durban in commanding fashion on Sunday. Read more »

South Africa: Boks Edge England in Ellis Park Thriller

News24Wire, 9 June 2018

The Springboks got back to winning ways with victory over England in an enthralling Test at Ellis Park in Johannesburg on Saturday, beating their visitors 42-39 . Read more »

South Africa: Banyana Banyana Qualify for Nations Cup

SAFA, 10 June 2018

Sasol-sponsored Banyana Banyana have qualified for the CAF Women Nations Cup finals scheduled for Ghana in November this year after walloping hapless Lesotho at Dr Petrus Molemela… Read more »
InFocus
Bongmusa Mthembu has defended his title as he won the 93rd edition of the Comrades Marathon with a time of 5:26:35. This is Mthembu's third victory having previously won the ... Read more »