Country Broke but Swazi King Flaunts Toys
The Kingdom of Swaziland has spent US$30 million on a second private jet for King Mswati III and is building a luxury conference center to host an eight-day African Union summit. But the finance minister says the kingdom is broke and can't pay public servants' salaries or government suppliers.
Swaziland: Govt Admits It Is Broke

Swazi Media, 15 June 2018

Despite finding US$30 million to buy the kingdom's absolute monarch King Mswati III a second private plane, earmarking E1.5bn (US$125m) this year to build a conference centre and… Read more »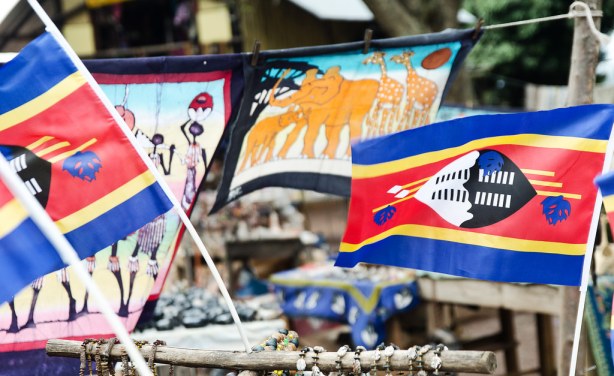 Swaziland flag among curios for sale.
InFocus
What do you gift a King who has it all? Well, a lounge suite made of gold of course, which is exactly what King Mswati apparently received from his mother as he continues to ... Read more »

The Observer reported that the king's cake "comprised of 52 layers and it was white and gold and part of the decoration on it was the silver number 50" - and he wore a blue suit ... Read more »