23 Vie For the Highest Office in Zimbabwe
A record 23 presidential candidates have been cleared to run in Zimbabwe's elections on July 30, including incumbent Emmerson Mnangagwa and opposition leader Nelson Chamisa, the country's electoral commission announced. It is the first election since former president Robert Mugabe was ousted following a brief military takeover in November last year, after 37 years in power.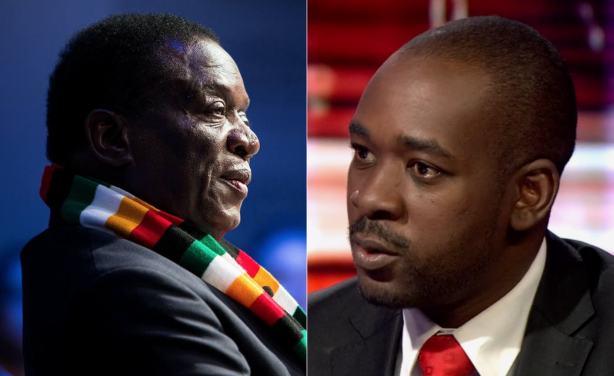 President Emmerson Mnangagwa and Nelson Chamisa (file photo).
Zimbabwe: Chinese Experts Helping Mnangagwa to Rig Elections - Moyo

New Zimbabwe, 14 June 2018

President Emmerson Mnangagwa has roped in Chinese experts to work with the Zimbabwe Electoral Commission (ZEC) in rigging next month's general elections in favour of Zanu PF, a… Read more »

Zimbabwe: 23 Candidates Set to Campaign for Presidency

The Herald, 15 June 2018

A record 23 people yesterday successfully filed nomination papers to contest as presidential candidates in the July 30 harmonised elections. The record figure, the highest since… Read more »

Zimbabwe: Mnangagwa Texts Charm Ruling Party Candidates

The Herald, 14 June 2018

President Mnangagwa has sent text messages to Zanu-PF candidates for the forthcoming harmonised elections, urging them to push the party's election agenda, centred on development… Read more »

Zimbabwe: 'Ruling Party Candidates Ready'

The Herald, 14 June 2018

Zanu-PF Midlands Province National Assembly candidates in the forthcoming harmonised elections have undergone a party verification exercise to ensure that they all meet the… Read more »

Zimbabwe: Divisions Rock Opposition Alliance Over Candidates

New Zimbabwe, 14 June 2018

As the nomination courts sit countrywide, confusion and disagreements continue to rock the opposition MDC Alliance with principals reportedly failing to reach a consensus on… Read more »

Zimbabwe: Opposition Leader Chamisa Accused of Sidelining Female Candidates

The Herald, 13 June 2018

MDC Alliance presidential candidate Mr Nelson Chamisa has come under fire from his supporters in Manicaland, who claim he has sidelined female candidates in the province and wants… Read more »