Uganda, UN Find Discrepancies in Refugee Numbers
Uganda's government insists there are reasonable explanations for the alleged inflation of refugee numbers despite preliminary findings revealing significant disparities. The government says discrepancies were due to the mass influx and complex movements of refugees in the country.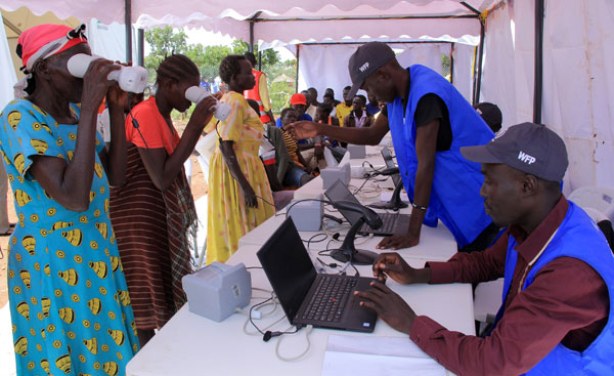 Verification. World Food Programme officials register refugees using a biometric verification system at Imvepi Refugee Settlement Camp in Arua District.
Uganda: Parliament to Probe Refugee Scandal

Monitor, 16 March 2018

Parliament has resolved to set up a select committee to investigate cases of inflated refugee numbers, fraudulent distribution of refugees' food, bribery, interference with… Read more »
InFocus
Relief and disaster preparedness minister Hilary Onek has ordered an urgent reshuffle in the refugee department following the indictment of refugee commissioner Apollo Kazungu and ... Read more »

Reports of the mismanagement of refugee funds in the Office of the Prime Minister have made their way in the Ugandan parliament. Speaker Rebecca Kadaga has asked for a motion that ... Read more »

The UN has told the Ugandan government that there is "no space for corruption" and demanded an investigation into an alleged scam around refugee funding that includes creating ... Read more »