High Level Eritrean Delegation Arrives in Ethiopia for Talks
A high-level Eritrean delegation has arrived in Addis Ababa and has been greeted by Ethiopian Prime Minister Abiy Ahmed. The meeting follows a pledge by Ahmed that he will honour a deal signed in 2000 to end a border war between the two countries.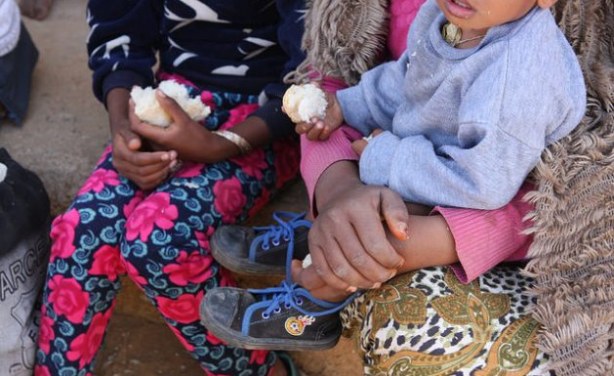 A group of Eritrean men, women and children who have just been dropped off dusty and tired at the entry point in the small town of Adinbried, about 50km southeast of Badme, having crossed the border during the preceding night.
East Africa: Senior Eritrean Delegation Arrives in Addis Ababa

Shabait, 26 June 2018

A senior Eritrean delegation composed of Mr. Osman Saleh, Minister of Foreign Affairs, and Mr. Yemane Gebreab, Presidential Advisor, have arrived in Addis Ababa, Ethiopia, in the… Read more »

Ethiopia: Eritrea Sends High-Level Delegation to Ethiopia

VOA, 26 June 2018

A high-level delegation from Eritrea is in neighboring Ethiopia for historic talks that could bring an end to one of Africa's longest-running conflicts. Read more »

East Africa: Ethiopia and Eritrea - Longtime Foes to Come to the Table

Reporter, 23 June 2018

Almost twenty years under "no war, no peace" situation, the subsequent governments of Ethiopia and Eritrea are finally coming to the negotiation table to resolve their difference… Read more »

East Africa: Our Peace in Our Hands

Ethiopian Herald, 23 June 2018

In a country that stands at the forefront of ensuring peace in other countries, the occurrence of conflict has stunned many people. Any such news creates discomfort among many… Read more »

East Africa: Peace Within and Between Eritrea and Ethiopia

Addis Standard, 21 June 2018

The outbreak of war between Eritrea and Ethiopia in the concluding years of the twentieth century is a truly tragic development. It qualifies as one of the most outstanding… Read more »
InFocus
The move comes after Ethiopia's Prime Minister Abiy Ahmed had said that his government would honour a historic peace agreement between the nations that led to the end of a border ... Read more »