Mistrust Continues to Threaten South Sudan's Fragile Peace Deal
South Sudan President Salva Kiir and rebel leader Riek Machar met for peace talks in Uganda on Saturday in an attempt to end a civil war that has gone on for more than four years. The discussions, mediated by Ugandan President Yoweri Museveni and Sudanese President Omar al-Bashir, ended with conflicting accounts over whether both sides had reached a power-sharing agreement.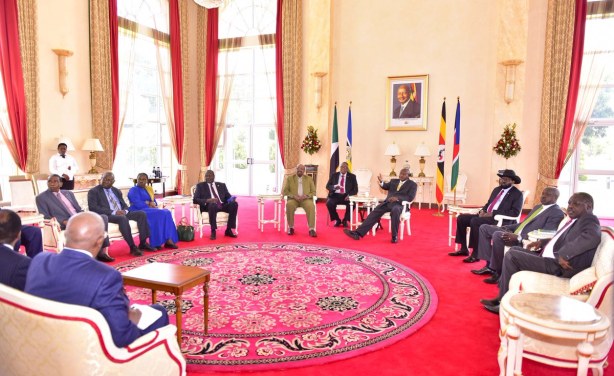 Ugandan President Yoweri Museveni tweeted this picture of the talks between Salva Kiir and Riek Machar.
South Sudan: Confusion Over Power-Sharing Deal

Deutsche Welle, 8 July 2018

Talks to reach a power-sharing deal in South Sudan have ended with conflicting accounts. Some reports have stated that rebel leader Riek Machar has agreed to return to his position… Read more »

South Sudan: Juba Govt, Rebels Sign Security Deal

Deutsche Welle, 6 July 2018

Government troops and rebel forces have agreed to withdraw from urban areas. The security deal comes ahead of a meeting between President Salva Kiir and Riek Machar, where… Read more »
InFocus
The American, British and Norwegian governments have said while they welcome the renewed commitment to a ceasefire, "all sides must stop fighting now". Read more »

President Salva Kiir and rebel leader Riek Machar have signed an agreement to end the war after reaching compromises on a number of outstanding issues. Read more »