Social Grant Beneficiaries Bear Brunt of Post Office Strike
A strike by workers at the South African Post Office and Telkom have left grant beneficiaries stranded. This comes after assurances from the South African Social Security Agency that the grants payment system has stabilised following a series of "glitches" that resulted in many beneficiaries returning home empty-handed.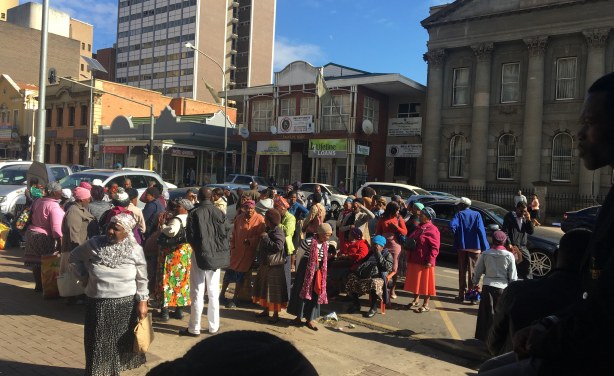 A group of mostly pensioners waited for hours outside the post office in Langalibalele Street, Pietermaritzburg where the doors remained closed as workers are on strike.
South Africa: South African Social Security Agency Stabilises Grants Payment System

Govt of SA, 6 July 2018

The South African Social Security Agency (SASSA) experienced problems in paying a portion of its beneficiaries since the 01 July 2018. SASSA pays over 12 million beneficiaries per… Read more »

South Africa: 'Glitches' in Sassa's New It System Leave 700,000 Grant Recipients in Nationwide Limbo

Daily Maverick, 5 July 2018

A mother and child walk between shacks in the impoverished shack settlement of Masiphumelele, Cape Town, South Africa, 23 August 2017. EPA/NIC BOTHMA Read more »

South Africa: In Transition, Suffering Strikes, Sassa Struggles to Pay Grants

Daily Maverick, 4 July 2018

A South African boy walks between shacks in the impoverished shack settlement of Masiphumelele, Cape Town, South Africa, 23 August 2017. EPA/NIC BOTHMA Read more »
InFocus
Minister of Social Development Bathabile Dlamini has testified at an inquiry to explain her role and liability in the social grants crisis in 2017. Read more »

The South African Post Office has been offered the contract to pay social grants to over 17 million recipients, after a court ruled that the contract for NET1, the company ... Read more »

Needy social grant recipients could have received more financial assistance had it not been for the large-scale thieving which has seen R100 billion disappear from state coffers, ... Read more »