First Local Council Elections for Uganda In 12 Years
More than 17 million registered voters are expected to take to the polls to choose their local council leadership - a process that has not taken place since 2006. The elections follows a successful legal challenge by the opposition, following the country's transition from movement system to multiparty dispensation.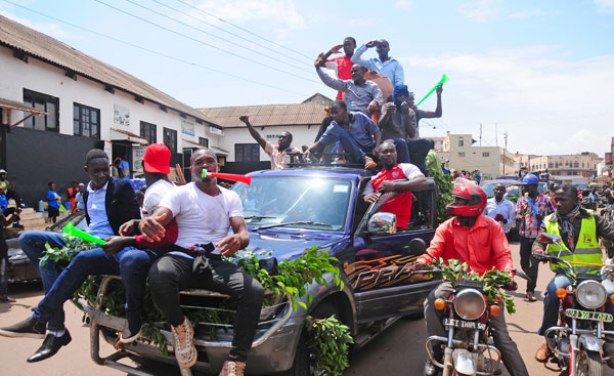 Sam Aliku, a contestant for the Pepsicola Zone in Industrial Area (atop car), Kampala, and his supporters canvass for votes last week.
Uganda: LC Polls - Who Is Eligible to Vote?

Monitor, 10 July 2018

Ugandans of voting age who duly registered during the special voter enrolment for Local Council elections will be the only ones allowed to vote, the Electoral Commission has said. Read more »

Uganda: Take Local Council Elections Seriously

Monitor, 9 July 2018

Tomorrow, 60,800 villages in Uganda will go to the polls to choose their Local Council One (LC1) leadership. This follows four days of intensive campaigns countrywide, except in… Read more »

Uganda: LC 1 Candidate Dies Mysteriously As Tororo Polls Are Suspended

Monitor, 9 July 2018

The Electoral Commission (EC) has suspended Local Council elections in Tororo District after some of its officials received threats that they would be harmed. Read more »

Uganda: 3,800 Villages to Miss LC Elections

Monitor, 6 July 2018

A total of 3,821 villages will miss the Local Council elections countrywide because they are not captured in the Electoral Commission's national data system. Read more »

Uganda: Court Blocks LC Elections

Monitor, 13 November 2017

The Monday court order followed an application by concerned citizen, Mr James Tweheyo challenging the elections in the absence of Advanced Secondary School students who are… Read more »