Kenyan Students Speak Out on School Fires
Protesting secondary school students target dormitories for destruction because they perceive them as the most valuable buildings around, students have told a taskforce. Students have blamed the wave of protests in schools on teachers' high-handedness, transfers of popular teachers and lack of entertainment facilities.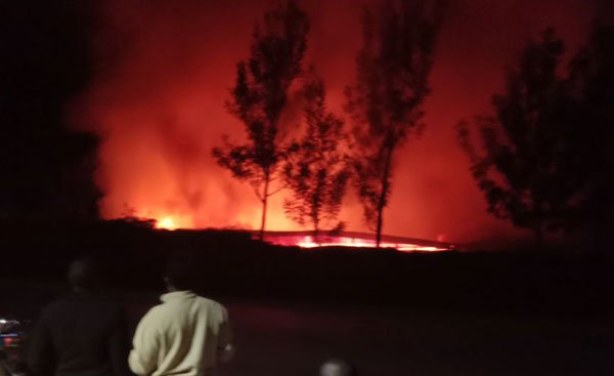 Kisii residents watch as fire consumes a dormitory at Kisii High School on July 10, 2018.
Kenya: 8 Arrested Over Kisii High School Dorm Fire

Nation, 11 July 2018

Eight students have been arrested in connection with the fire that gutted a dorm at Kisii High School on Tuesday night. Read more »

Kenya: Fire Destroys Dormitory at Kisii High School

Nation, 10 July 2018

A dormitory at Kisii High School was on Tuesday night destroyed by fire. Parents and members of the public flocked the national boys' school after getting news that the institution… Read more »

Kenya: Why Learners Target Dorms in Fire Attacks

Nation, 10 July 2018

Rioting secondary school students target dormitories for destruction because they perceive them as the most valuable buildings around, the students told a taskforce chaired by Ms… Read more »

Kenya: School Fires - 3 Dorms Razed Down

Nation, 9 July 2018

Emergency teams on Monday responded to fire incidents at three secondary school in Meru, Homa Bay and Kakamega counties as the wave of school unrest continues to spread… Read more »

Kenya: Three More Schools Closed Over Unrest

Nation, 9 July 2018

Three more schools have been closed indefinitely as wave of unrest sweeps across the county. Read more »

Kenya: Parents Body Demands Closure of All Secondary Schools to Stem Unrest

Nairobi News, 9 July 2018

Parents are now calling for brief closure of all secondary schools to avert tension and unrest currently being experienced in many institutions. Read more »

Kenya: Students Engaging in Arson to Miss Varsity Slots, Grants

Capital FM, 9 July 2018

Students involved in criminal activities will face stringent punishment as the government moves to curb renewed unrest that has seen seven boarding schools burnt. Read more »

Kenya: At Least 10 Nyanza Schools Shut After Unrest, Fires

Capital FM, 9 July 2018

At least 10 schools have been closed across Nyanza following unrest that has rocked several institutions across the country. Read more »

Kenya: Fire Guts Dorm at Oriwo Boys High School

Nation, 8 July 2018

Oriwo Boys High School in Homa Bay County is the latest institution to be affected by dormitory fire. Read more »

Kenya: Fire Razes Two Dorms in Chulaimbo Boys School

Nation, 8 July 2018

The wave of unrest in Nyanza continues to spread after fire gutted down two Chulaimbo Boys Secondary School dormitories on Saturday. Read more »

Kenya: Maliera Boys Closed as Fire Guts Dorm at Ambira in Siaya County

Nation, 6 July 2018

Maliera and Ambira secondary schools in Siaya County are the latest to be affected a wave of unrest sweeping across Nyanza. Read more »

Kenya: Students Spend Night in Cold After Dorm Razed

Nation, 5 July 2018

Students at St Patrick Waitaluk Secondary School in Trans Nzoia County spent Wednesday night in the cold after their dormitory was burnt down.School authorities suspect the fire… Read more »