Buhari Hails the 'Quality' of Nigerians in the Netherlands
President Muhammadu Buhari has commended Nigerian professionals in the Netherlands for representing the country well. Buhari is in the country to take part in the commemoration of the 20th anniversary of the adoption of the Rome Statute of the International Criminal Court at The Hague.
Nigeria: Nigeria Is Safe, Secure for Investment, Buhari Assures 20 CEOs in the Netherlands

This Day, 17 July 2018

President Muhammadu Buhari on Monday in The Hague, Netherlands, met with over 20 chief executive officers of Dutch companies, assuring them of safe and secure environment in… Read more »

Nigeria: Buhari Lauds 'Quality' of Nigerian Professionals in Netherlands

Premium Times, 16 July 2018

President Muhammadu Buhari, on Monday, on the sidelines of his official visit to The Hague, Netherlands, expressed satisfaction over the quality of Nigerian professionals in that… Read more »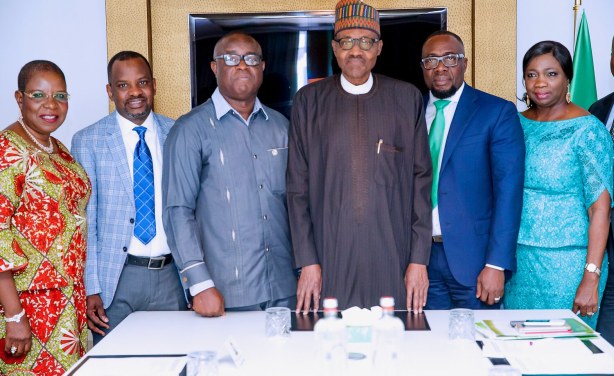 Buhari tweeted: Today in The Hague, I met with a group of Nigerians in the diaspora, led by Mr Julius Nwankpa. Everywhere I travel to, around the world, I'm impressed by the quality of Nigerians I see. At home and abroad, Nigerians are exceptional, high-achieving people.
Nigeria: Nigerians in Netherlands Urge Buhari to End Killings

This Day, 16 July 2018

Nigerians in The Netherlands Monday urged President Muhammadu Buhari to speedily put an end to the protracted killings of innocent Nigerians in the country. They also tasked… Read more »

Nigeria: Buhari Hails the "Quality" of Nigerians in Netherland

Guardian, 16 July 2018

President Muhammadu Buhari on Monday commended Nigerians in the Netherlands for being of great qualities in their personal achievement. Read more »

Nigeria: Dutch Prime Minister Promises to Help Nigeria Fight Terrorism

Vanguard, 16 July 2018

Prime Minister of The Netherlands Mark Rutte has promised to support Nigeria in the fight against terrorism, President Muhammadu Buhari has said. Read more »

Nigeria: Buhari Arrives Netherlands Ahead of ICC's 20th Anniversary

Guardian, 15 July 2018

President Muhammadu Buhari on Sunday evening arrived Netherlands ahead of his scheduled visit to the International Criminal Court (ICC) in The Hague.The News Agency of Nigeria… Read more »

Nigeria: Buhari's Invitation, Indication of Country's Support to ICC - Envoy

Vanguard, 16 July 2018

Nigeria's Ambassador to The Netherlands, Oji Ngofa, has said the invitation of President Muhammadu Buhari to attend the commemoration of the 20th anniversary of Rome Statute of… Read more »

Nigeria: Buhari Departs Abuja for Netherlands, to Address ICC

Guardian, 15 July 2018

President Muhammadu Buhari on Sunday left Abuja for Netherlands to participate in activities commemorating the 20th anniversary of the adoption of the Rome Statute of the… Read more »

Nigeria: My Govt Has a Firm Believe in Democracy - Buhari

Vanguard, 16 July 2018

President Muhammadu Buhari, Monday said that the present administration has a firm believe in democracy and working very hard to entrench it, just as he stressed that the… Read more »