Rwanda, India Get Down to Business as PM Modi Jets In
President Paul Kagame and Indian Prime Minister Narendra Modi have witnessed the signing of seven agreements that include cooperation in defence, trade cooperation framework and a culture exchange programme. Modi is travelling with about 100 business leaders.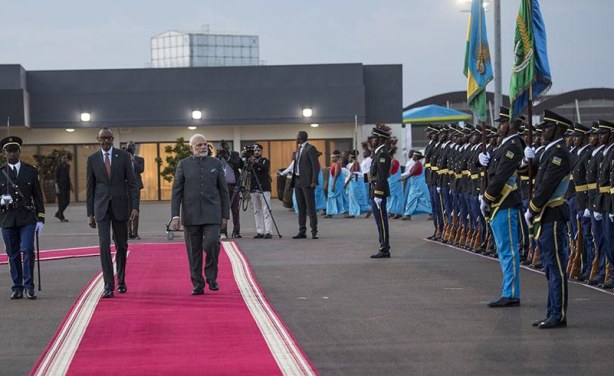 President Paul Kagame and Prime Minister Narendra Modi of India shortly after the latter's arrival at Kigali International Airport.
Rwanda: India's PM Modi Jets in With 100 Business People

New Times, 23 July 2018

India's Prime Minister Narendra Modi, has arrived in Rwanda for a two-day state visit this Monday evening as the two countries seek to bolster ties. Read more »

Rwanda: Interview - Partnerships Can Be a Source of Strength for India, Rwanda Relations - Amb. Shankar

New Times, 23 July 2018

A head of India's Prime Minister's visit to Rwanda, India's Ambassador to Uganda, Ravi Shankar, who also covers Rwanda and Burundi, has said that the partnership between the two… Read more »

Rwanda: Inar - Hon Modi's Visit to Rwanda Will Strengthen Bilateral Relations, Increase Trade Opportunities

New Times, 23 July 2018

The Indian Association of Rwanda (INAR) is a representative organisation of all Indians in Rwanda, to represent Indian interest to Government of Rwanda and other organisations in… Read more »

Rwanda: India's PM Modi to Jet in With 100 Business People

New Times, 23 July 2018

India's Prime Minister Narendra Modi, will begin a two-day state visit to Rwanda this Monday as the two countries seek to bolster ties. Read more »

Rwanda: Indo-Rwandan Ties Poised for Phenomenal Growth

New Times, 23 July 2018

A few year's ago, on a warm and sunny morning in India's capital city, New Delhi, I was attending the AFRICA CONCLAVE , which is jointly organised by the Confederation of Indian… Read more »

Rwanda: Rwanda's Love Affair With the Indian Cuisine

New Times, 23 July 2018

The spicy, intensely colourful world of Indian food found an ever-increasing fan base in Rwanda. In many parts of the city, perhaps, you will find an Indian restaurant or a… Read more »