Out With the Old - Nigeria's Apapa Rail Station to Get Makeover
The idea is to pull down the existing structures, and expand the station towards the seaport for easy access to ferry goods from the sea to the rail line and then to the town, according to Minister of Transportation Rotimi Amaechi. Container trucks and tankers caused a major gridlock along the Oshodi-Apapa Expressway which has led the government to look for alternatives to ease traffic congestion on major highways.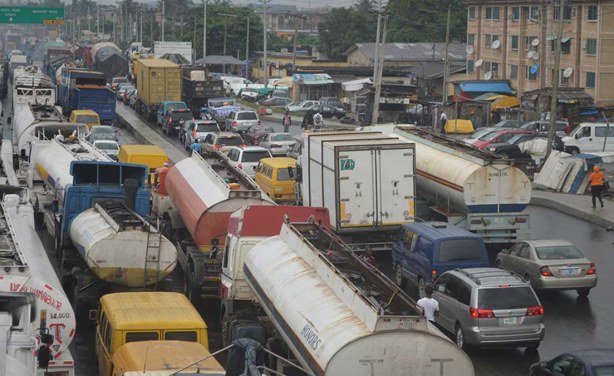 The gridlock is being caused by container trucks and tankers operating around the port.
Nigeria: Govt to Demolish, Rebuild Old Apapa Rail Station

This Day, 24 July 2018

The federal government yesterday said it would demolish, rebuild and expand the old Apapa rail station to have a warehouse, hotel and a shopping mall to serve Apapa port and the… Read more »

Nigeria: Lagos Suspends Approval of New Tank Farms Over Apapa Gridlock

Guardian, 24 July 2018

To ensure that sanity returns to the Apapa-Oshodi expressway, the Lagos State Government has suspended approval for new tank farms in Apapa area of the city. Read more »

Nigeria: Respite Finally Comes for Motorists On Apapa-Oshodi Expressway

Guardian, 23 July 2018

After almost a week commuters had hellish experience plying the Apapa-Oshodi expressway, respite finally came yesterday following the clearing of articulated vehicles from a… Read more »

Nigeria: Ambode Extends 'Operation Restore Sanity to Lagos Roads'

Guardian, 23 July 2018

The order by the Lagos State government to remove all containerised trucks and tankers parked along the Oshodi-Apapa Expressway has been extended by 48 hours. Read more »

Nigeria: Security Operatives, Others in Emergency Meeting As Apapa Traffic Worsens

Daily Trust, 20 July 2018

As the traffic gridlock created by trucks and articulated vehicles on the Apapa-Oshodi and Apapa-Ijora-Ikorodu road corridors worsens, the state police command, the Nigerian Army,… Read more »

Nigeria: Apapa Gridlock Worsens As Security Officials Commercialise Right of Way

Leadership, 20 July 2018

In addition to the poor road conditions and lack of truck holding bays, the nefarious activities of some security officials, especially those of the Nigerian navy, the Nigerian… Read more »

Nigeria: Why Apapa Expressway Traffic Remains Congested - Lagos Govt

Premium Times, 19 July 2018

The Lagos State Government has attributed the perennial traffic jam at the Apapa end of the Apapa-Oshodi expressway to the recalcitrance of owners and drivers of tankers and trucks… Read more »