Kenya's Mau Forest Evictions to Continue - Court
The court has declined to issue orders stopping the evictions of illegal settlers in the Maasai Mau forest. So far the government has secured about 12,000 hectares of land, kicking out thousands of people and demolishing over 1,700 structures in the 46,000-hectare forest.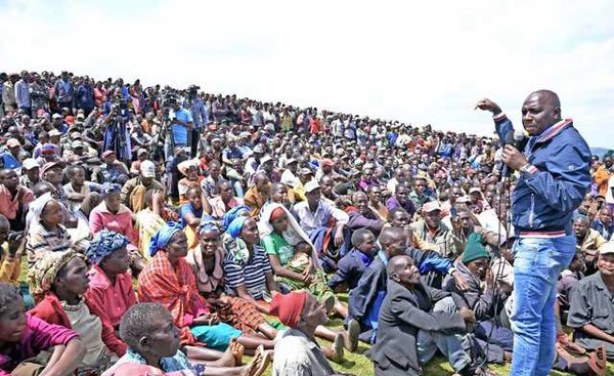 Senate Majority Leader Kipchumba Murkomen addresses Mau forest settlers at Kitoben on July 19, 2018.
Kenya: Ruto Allies Change Tune on Mau Evictions

Nation, 26 July 2018

Deputy President William Ruto's allies have now caved in to pressure from within President Uhuru Kenyatta's Jubilee Party, resolving to go slow on the emotive issue of the Mau… Read more »

Kenya: We Are Being Unfairly Targeted in Mau Evictions, Ogiek Say

Nation, 25 July 2018

Members of the Ogiek community living in the Maasai Mau water catchment area have faulted the mode of their eviction, saying that, they, being forest conservers, are now unfairly… Read more »

Kenya: Nine Schools Closed Following Mau Evictions

Nation, 25 July 2018

At least nine schools have been closed in the last one week following the eviction of over 9,000 people from the Maasai Mau forest. Read more »

Kenya: Section of Narok MPs Say They Support Mau Evictions

Capital FM, 24 July 2018

Two Members of the National Assembly from Narok County have warned politicians against using the ongoing Mau Forest evictions to incite residents against each other. Read more »

Kenya: Mau Evictions Ill-Timed, North Rift Leaders Say

Nation, 22 July 2018

Leaders from the North Rift region have cautioned leaders over politicising Mau evictions. Read more »

Kenya: Leaders Clash Over Mau Forest Border

Nation, 24 July 2018

A dispute over Maasai Mau Forest boundary has put Narok County Commissioner George Natembeya on a collision path with Rift Valley leaders who accuse him of creating a new cut-line… Read more »

Kenya: Senator Cheruiyot Wants Tuju to Apologise Over Mau Eviction Remarks

Capital FM, 23 July 2018

Kericho Senator Aaron Cheruiyot has criticized Jubilee Party Secretary-General General Raphael Tuju for what he termed as unlawful support of evicting people living on the outline… Read more »

Kenya: Mau Evictions Will Go On Despite Protests - Ruling Party

Nation, 22 July 2018

President Uhuru Kenyatta's Jubilee Party has thrown Senate majority leader Kipchumba Murkomen under the bus, terming as personal, his comments opposing eviction of illegal settlers… Read more »