Buhari 'Not Bothered' About Defections in the Ruling Party
President Muhammadu Buhari has said he's not bothered about defection of some All Progressives Congress members to opposition political parties because the majority of Nigerians appreciate his government and will vote for his party in the 2019 election.
Nigeria: Nigerians Are With Me - Buhari

Vanguard, 31 July 2018

President Muhammadu Buhari said, Sunday night in Lome Togo, that he decided to take a second shot at the Presidency because Nigerians were solidly behind him. Read more »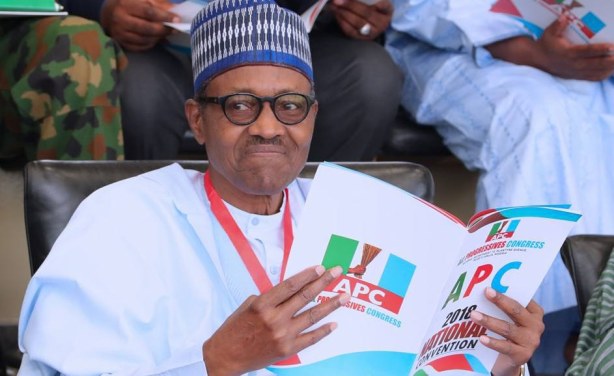 President Muhammadu Buhari.
Nigeria: Butterfly Politicians

Daily Trust, 30 July 2018

We are living in interesting "democratic times". What with defections? What with new alliances? What candidates without candid programs? What with contestations without issues that… Read more »

Nigeria: I Am Not Bothered By Defections in APC, Buhari Tells Nigerians in Togo

Guardian, 31 July 2018

President Muhammadu Buhari has said he is not bothered by the defections in the ruling All Progressives Congress (APC). Read more »

Nigeria: Underlying Issues and Fallouts of Defections for 2019 Poll

Guardian, 25 July 2018

The politics of carpet-crossing has resurrected. It has become an undying feature of Nigeria's party politics. Almost always, it comes with great promise of hope to launch a new… Read more »

Nigeria: Countdown to February 2019 - a Look Ahead At Nigeria's Elections

Chatham House, 25 July 2018

International engagement will be critical to the success of Nigeria's elections, but its international partners - in particular the US - appear less engaged than they were four… Read more »

Nigeria: Impeachment Haunts Political Bigwigs Ahead of 2019 Polls

Guardian, 31 July 2018

More political stalwarts may catch a cold if the 2019 elections continue to blow a gale of impeachments across the landscape. Read more »

Nigeria: 2019 - Despite Defections, Buhari Will Win, Says Keyamo

Vanguard, 30 July 2018

In spite if last week's depletion of the ranks of the All Progressives Congress APC as a result of a wave of defections that hit the ruling party, the Buhari Campaign Organization… Read more »

Nigeria: I'm Not Bothered About Defections - Buhari

Premium Times, 30 July 2018

President Muhammadu Buhari said Sunday night that he was not bothered about the defections in the ruling All Progressives Congress (APC). Read more »

Nigeria: Despite Defections, Buhari Will Win 2019 - Akeredolu

Premium Times, 30 July 2018

Governor Rotimi Akeredolu of Ondo State has said he is confident President Muhammadu Buhari would win the 2019 presidential election for a second term in the office. Read more »

Nigeria: 39 Senators Meet Buhari, Say 'We Still Have Clear Majority in NASS'

Vanguard, 27 July 2018

Senate President, Dr Bukola Saraki; Senate Chief Whip, Prof. Sola Adeyeye, and former governor of Zamfara State, Sani Yerima, were absent as the Senate caucus of All Progressives… Read more »

Nigeria: What Will Make Buhari Win or Lose 2019 Election - Analysts

Premium Times, 25 July 2018

Two analysts attached to the Africa Programme of the Chatham House say President Muhammadu Buhari's performance in the last six months of his tenure will determine if he gets… Read more »
InFocus
Yobe Senator Ahmad Lawan has said that the defection of 14 All Progressives Congress Senators to the Peoples Democratic Party has not affected the status of the APC as the majority ... Read more »