Trump Makes Rwanda Pay Duty For Clothes Exports to U.S.
U.S. President Donald Trump has suspended Rwanda's duty-free access to the United States for apparel products until Rwanda comes back into compliance with African Growth and Opportunity Act's eligibility requirements, the deputy U.S. Trade Representative CJ Mahoney has said. This comes after the U.S. threatened to review Rwanda's status after the latter banned importation of used clothes and shoes.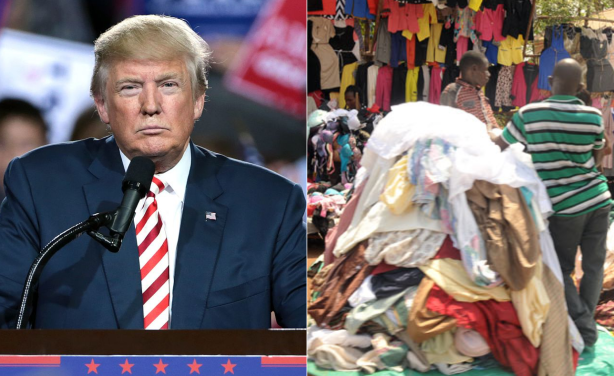 Left: President Donald Trump. Right: Second-hand clothes trader.
InFocus
President Donald Trump has said that Rwanda's barriers to U.S. exports of used apparel and footwear are the reason for his latest threat to suspend duty-free treatment of clothing ... Read more »

The United States has warned East African Community leaders that their plan to ban the import of used clothes by 2019 violates the African Growth and Opportunity Act. In March ... Read more »

The East African Community has backed down on their announcement that from 2019, second-hand clothes will be banned from their markets. The U.S. claims that the ban violates the ... Read more »