Voters Apathetic About Senatorial By-Election in Liberia
Despite low voter turnout, early results from Bong and Montserrado Counties senatorial by-election have reportedly put Henrique Tokpa, former Internal Affairs Minister and Representative Saah Joseph in a comfortable lead.
The election was held to fill two vacant seats in the Liberian Senate by President George Manneh Weah and his Vice President Jewel Howard Taylor.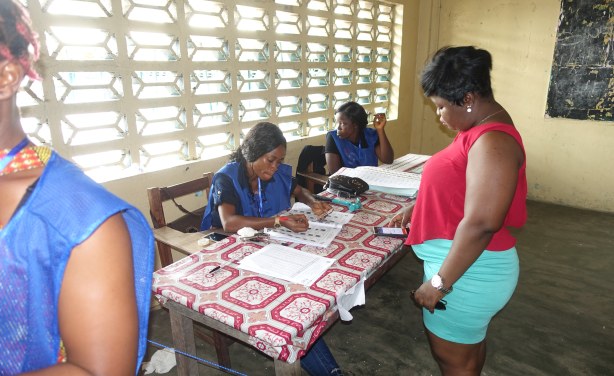 (File photo).
Liberia: 'Senatorial By-Election Low Turnout Is a Wakeup Call' - CSO Chair Says

FrontPageAfrica, 1 August 2018

The low voter turnout in Tuesday's Senatorial by-election is a threat to Liberia's young democracy, said Frances Greaves, Chair of the National Civil Society Organization (NCSOCL)… Read more »

Liberia: Continuous Disappointment Makes Voters Weary of Going to Polls

FrontPageAfrica, 1 August 2018

Two hours before the polls closed on Tuesday, only 39 of the 396 voters at Gbokolleh Public School in Bentol had voted in the Senatorial by-election. Read more »

Liberia: Rock Crushers Boycott Senatorial By-Election

Observer, 1 August 2018

A group of young men crushed rocks along the Monrovia-Kakata Highway as other citizens in Bong and Montserrado Counties trickled into polling stations on Tuesday expressed… Read more »

Liberia: Voters Protest

New Dawn, 1 August 2018

Liberians have voted in very poor by - elections conducted in Montserrado and Bong Counties to fill two vacant seats left in the Liberian Senate by President George Manneh Weah and… Read more »

Liberia: "Low Voter Turnout a Threat to Liberia's Democracy"

Observer, 1 August 2018

The Chair of the Civil Society Organizations (CSOs) Council in Liberia, Ms. Frances Greaves, has said the low turnout in the senatorial by-election is a threat to Liberia's young… Read more »