Deadly Protests Follow Elections in Zimbabwe
Hundreds of opposition protesters took to Harare's streets, calling on authorities to release official presidential election results. Police fired water cannon and tear gas at the protesters, urging them to disband. Protesters blocked some roads, burned tyres and chanted slogans against the ruling Zanu-PF party. In response, soldiers fired live rounds at protesters. Zimbabwean police have confirmed that three people died.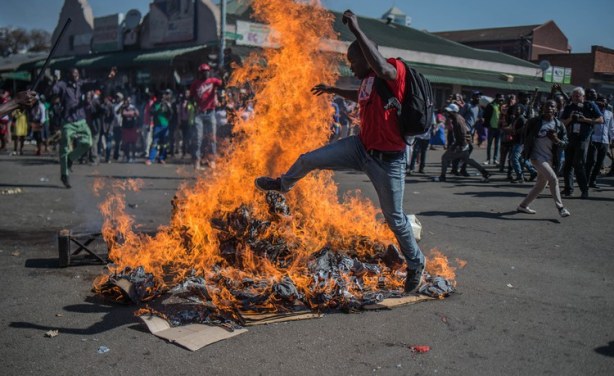 MDC supporters protested in Harare on Wednesday after the electoral commission announced that Zimbabwe's ruling party had won a majority of seats in Parliament and the country braced itself for the first official results of the presidential election.
Photo Essay
Picture 1 of 5

Protesters in Harare burnt Zanu-PF posters after saying they would not accept the elections results which showed that the ruling party won the majority in Parliament. see more »
Zimbabwe: Violence in Harare - an Eye-Witness Account

GroundUp, 2 August 2018

l arrived in the Harare city centre at about 4pm on Wednesday. Read more »

Zimbabwe: I Don't Know Who Killed Protesters - Police Boss

New Zimbabwe, 2 August 2018

ZRP Chief Godwin Matanga said Wednesday that he was in charge of military units deployed in Harare after violence rocked the capital but refused to say whether or not the soldiers… Read more »

Zimbabwe: Three Dead in Harare Violence, Police Keen to Speak to Tendai Biti

New Zimbabwe, 1 August 2018

POLICE have confirmed that three people died as violence rocked Harare Wednesday afternoon after results of Monday's elections showed that the ruling Zanu PF party had won the… Read more »

Zimbabwe: Mayhem in Central Harare, Gunshots As Military Deployed

New Zimbabwe, 1 August 2018

CENTRAL Harare was turned into a war zone late Wednesday afternoon as the military and riot police were deployed against opposition activists who were protesting against the… Read more »

Zimbabwe: Three Killed in Protests

The Herald, 2 August 2018

THREE people were killed, while several others were injured when MDC-Alliance supporters went on a rampage destroying property, torching vehicles, blocking roads and attacking… Read more »

Zimbabwe: Deadly Clashes Erupt Over Election 'Results Manipulation'

Deutsche Welle, 1 August 2018

At least one person has been shot dead after soldiers took to the streets of the capital. Zimbabwe's incumbent president has called on the opposition to stop making "provocative… Read more »
Video
Author:

SABC Digital News

Publisher:

Publication Date:

2 August 2018

Zimbabwean President Emmerson Mnangagwa says that the government holds the opposition MDC Alliance and its whole leadership responsible for ... see more »
InFocus
MDC Alliance presidential candidate Nelson Chamisa has thanked Zimbabweans for their support in an announcement that says "we have won the popular vote" - made soon after the ... Read more »

The ruling Zanu-PF has taken a lead in the National Assembly seats after the Zimbabwe Electoral Commission announced the first set of results from July 30's polls. This comes ... Read more »