What Saraki Said at His World Press Conference
Nigerian Senate President Bukola Saraki is speaking 24 hours after lawmakers tried to impeach him and failed - and rejected calls for him to step down. Saraki described the blockade at the National Assembly by security operatives and the postponement of the emergency meeting of the principal officers of both chambers as "a show of shame that played itself out over several hours in full view of the country. In no circumstances should this have happened".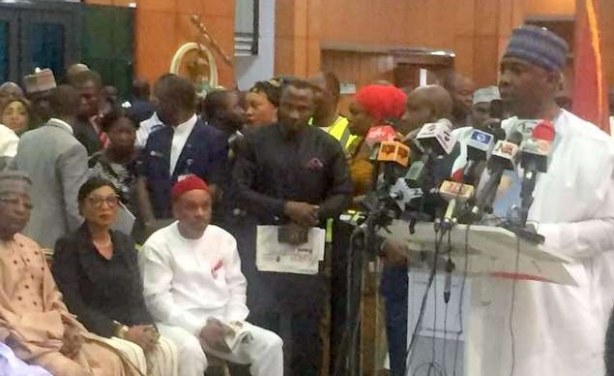 Senate President Bukola Saraki at the World Press Conference in the National Assembly.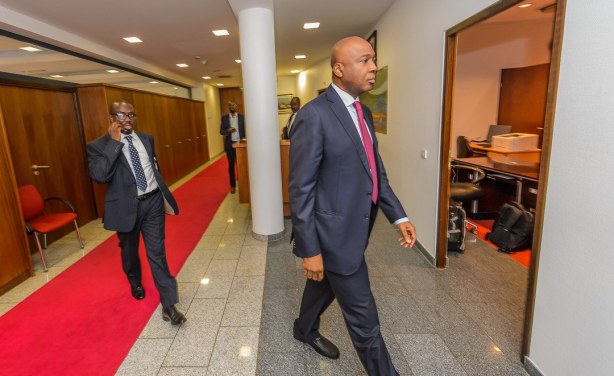 Bukola Saraki.
Nigeria: Saraki to Address World Press Conference On Wednesday

Vanguard, 7 August 2018

Senate Bukola Saraki will address a World Press Conference at the foyer of the National Assembly at noon on Wednesday, says Mr Yusuph Olaniyonu, his Special Adviser on Media and… Read more »

Nigeria: Saraki Summons National Assembly Leadership for Emergency Meeting

Leadership, 7 August 2018

The leadership of the National Assembly will today hold an emergency meeting to consider the supplementary budget for approval, especially the budgets of the Independent National… Read more »

Nigeria: Siege On the National Assembly Despicable - Governors

This Day, 8 August 2018

The Nigeria Governors' Forum (NGF) yesterday condemned the attempted take-over of the National Assembly by operatives of the Department of State Services (DSS). Read more »

Nigeria: APC Distances Self From NASS Siege, Insists Its a Legislative Matter

Leadership, 7 August 2018

The governing All Progressives Congress (APC), has distanced itself and the the national chairman of the party, Comrade Adams Oshiomhole from the happenings at the National… Read more »
InFocus
Masked security operatives blocked all entry or exits from the National Assembly in a reported bid to impeach Senate President Bukola Saraki and his deputy, Ike Ekweremadu. Some ... Read more »

The Presidency had appealed to the National Assembly to reconvene as urgent matters pending before it may affect the running of Nigeria. Issues on the agenda include the string of ... Read more »

Acting President Yemi Osinbajo has said the blockade of the National Assembly gates by operatives of the State Security Service was unauthorized. Masked men blocked members of ... Read more »