Place Citizens First, Rwandan President Cautions
President Paul Kagame has urged leaders to improve on citizen outreach, saying that development partners seem to have a better understanding of the local issues than some leaders. He was presiding over the dissolution of the outgoing Lower House, which also involved the signing of the 2018/19 Imihigo where local and central government leaders signed new performance contracts.
Rwanda: Imihigo - Put Citizens First, Says Kagame

New Times, 10 August 2018

President Paul Kagame yesterday cautioned local leaders and other government officials who fail to address citizens' problems, urging them to focus on addressing the issues… Read more »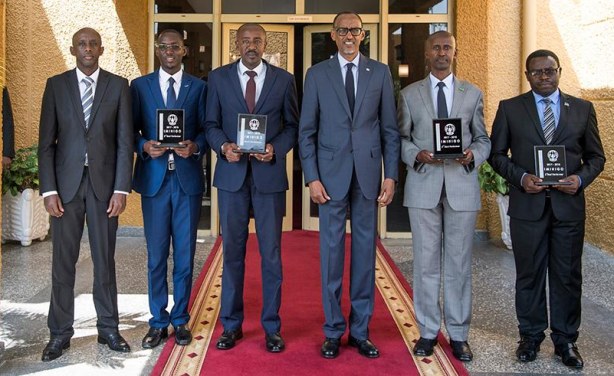 President Kagame poses for a group photo with the mayors whose districts scored highly in the implementation of Imihigo for the financial year 2017/18. Left is Local Government minister Francis Kaboneka.
Rwanda: Govt to Spend Rwf500 Billion on Imihigo

New Times, 10 August 2018

The Government will spend Rfw509 billion on the implementation of projects containscales up intensifies efforts against poverty, the Minister for Local Government, Francis… Read more »

Rwanda: Leaders Sign Imihigo Today

New Times, 9 August 2018

The signing of the 2018/19 Imihigo will be combined with the presentation of an appraisal report from last year's performance contracts. Read more »