Move to Impeach Justice Ja'neh Gets Really Complicated in Liberia
The impeachment proceedings of Associate Justice Kabineh Ja'neh seem to be getting more complicated by the day as some members of the national legislature have been dragged to the Supreme Court on a writ of prohibition filed against the House by legal counsel Representing Associate Justice Ja'neh, writes The New Republic.
According to the two CDC lawmakers, who brought the motion for the justice to be impeached, Ja'neh has allegedly engaged in proved misconduct, gross breach of duty, inability to perform his functions beyond reproach.
Liberia: House Snubs Supreme Court

New Dawn, 15 August 2018

The House of Representatives has snubbed a stay order issued by the Supreme Court of Liberia against ongoing legislative processes to impeach Associate Justice Kabineh M. Ja'neh. Read more »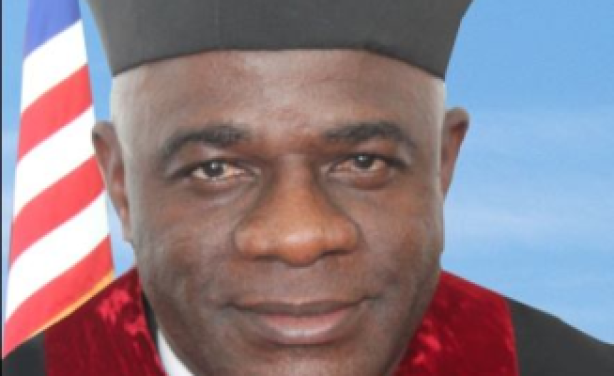 Associate Justice Kabineh Ja'neh.
Liberia: Justice Ja'neh Impeachment Gets Tough

New Republic, 12 August 2018

The impeachment proceedings of Associate Justice Kabineh Ja'neh seem to be getting tougher by the day as some members of the 54th National Legislature have been dragged to the… Read more »

Liberia: Supreme Court Halts House's Proceedings to Impeach Justice Kabineh Ja'neh

FrontPageAfrica, 10 August 2018

Just a day after she assumed her role as the Justice-In-Chamber, Associate Justice Sie-A-Nyene Youh, has placed a stay order on the pending impeachment proceeding against Associate… Read more »

Liberia: Supreme Court Halts Ja'neh's Impeachment Proceeding

New Democrat, 9 August 2018

The Supreme Court of Liberia has placed a stay order on the House of Representatives' petition for the impeachment of Associate Justice Kabineh Ja'neh,. Read more »

Liberia: Simple Logic and the Law - Annie Constance And Son Break Their Silence

Observer, 3 August 2018

"WE LOVE YOU TOO," THE HOLIDAY CHEER RANG OUT. AND SUPPORTERS OF JUSTICE KABINEH JA'NEH'S WERE SHOCKED. IT WAS A 90-YEAR-OLD WIDOW RETURNING THE JULY 26TH SEASON'S GREETINGS--WITH… Read more »

Liberia: Plot to Impeach Justice Ja'neh Intensifies

New Dawn, 18 July 2018

Two lawmakers of the ruling Coalition for Democratic Change (CDC) Thomas P. Fallah and Acarous Moses Gray have submitted an impeachment bill against Associate Justice of the… Read more »

Liberia: Liberia - Justice Ja'neh's Impeachment, an Attempt to Weaken Supreme Court Bench?

FrontPageAfrica, 11 July 2018

Reminiscing the legal entanglements that engulfed the October 10, 2017 elections, Liberty Party (LP) seems not have gotten over the Supreme Court's denial of a rerun of the entire… Read more »