Promises or Hot Air, as Rwanda's Election Nears
As parliamentary polls approach, candidates from different politicial divides have been making pledges in their quest to be elected into office, with some promising to address water shortages, making the agriculture sector more productive and tightening the laws that tackle teenage pregnancies. The police have asked the public to stay vigilant and calm to ensure that campaigns and polls in September.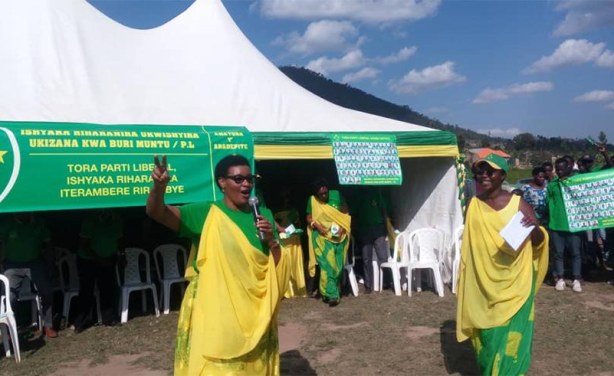 Donatile Mukabalisa, the Liberal Party president, assured Rwandans that her party will give a special attention on empowering administrative organs at the grassroots level.
Rwanda: Sebagenzi Promises to Tackle Teenage Pregnancies

New Times, 15 August 2018

Ally Hussein Sebagenzi has said that he intends to advocate for tightening the laws that tackle teenage pregnancies, especially the ones that target men who sexually abuse young… Read more »

Rwanda: PS-Imberakuri Pledges to Address Water Shortage

New Times, 14 August 2018

PS-Imberakuri has promised residents of Jabana Sector, Gasabo District that it will advocate for policies that that will address water shortage, increase electricity connectivity… Read more »

Rwanda: Green Party Promises to Increase Salaries for Teachers, Security, If Elected

New Times, 15 August 2018

Ensuring teachers and security personnel's welfare through increasing their salaries took the centre stage at a campaign rally Tuesday as the Green Party canvassed support in… Read more »

Rwanda: RPF Candidates Pledge Continued Transformation of City Suburbs

New Times, 15 August 2018

RPF-Inkotanyi parliamentary candidates, who hail from Gasabo District, have collectively pledged to foster policies that would go a long way in bringing about inclusive urban… Read more »

Rwanda: PSD to Focus on Agriculture Productivity

New Times, 14 August 2018

Social Democratic Party (PSD) candidates have said they will focus on making the agricultural sector more productive once elected to parliament. Read more »

Rwanda: Mpayimana Pledges to Increase Parliamentary Citizen Outreach

New Times, 15 August 2018

Philippe Mpayimana, one of the independent candidates in the ongoing parliamentary campaigns, has promised to increase parliamentary citizen outreach. Read more »

Rwanda: PL Seeks to Empower Cell Administrators

New Times, 14 August 2018

Leaders of Liberal Party (PL) on Monday convened in Rulindo District canvassing for support ahead of the forthcoming parliamentary elections. Read more »

Rwanda: Vote for RPF to Fast-Track Development, Rwandans Urged

New Times, 14 August 2018

The Rwanda Patriotic Front (RPF)-Inkotanyi held its inaugural parliamentary campaign rally in Rutongo, Rulindo District yesterday, ahead of the September polls in which they will… Read more »

Rwanda: Police Ask Public to Stay Calm, Vigilant During Election Season

New Times, 14 August 2018

Rwandans need to take extra precautions during the on-going parliamentary election period to ensure that the campaigns and subsequent polls are conducted in an environment that is… Read more »

Rwanda: Green Party Pledges to Promote Citizen Participation in Legislative Process

New Times, 14 August 2018

Once Green Party is elected into Parliament, it will create an online platform whereby citizens can make their contributions whenever laws are being discussed Read more »
InFocus
The current parliament was officially sworn in in 2013 and is set to be dissolved on August 9, to pave way for the election of members which will take place between September 2-4. ... Read more »

National Electoral Commission officials have said that the number of political parties, independent candidates and individuals vying for special category positions have ... Read more »