Who's to Blame for Nigeria Electoral Body's Budget Delay?
The presidency has said that President Muhammadu Buhari was not to blame for the late presentation of the Budget of the electoral commission for the 2019 election - but Senate President Bukola Saraki and the National Assembly should be held responsible. Saraki says the late submission of the Independent National Electoral Commission election Budget by the presidency was due to a lack of foresight.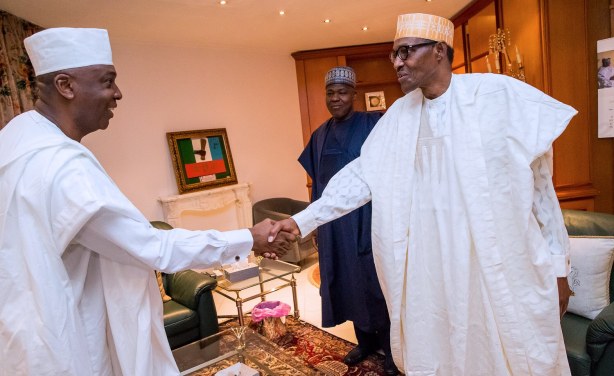 President Muhammadu Buhari and Senate President Bukola Saraki (file photo).
Nigeria: Saraki Blames Presidency's 'Lack of Foresight' for 2019 Election Budget Delay

Premium Times, 20 August 2018

The Senate President, Bukola Saraki, has said the late submission of the Independent National Electoral Commission, INEC's 2019 election budget by the presidency was due to a lack… Read more »

Nigeria: Saraki, Not Buhari Responsible for Late Presentation of INEC Budget - Presidency

Premium Times, 19 August 2018

The presidency on Sunday said President Muhammadu Buhari was not to blame for the seemingly late presentation of the budget of the electoral commission, INEC, for the 2019… Read more »

Nigeria: Saraki Blows Hot, Fires Back At Buhari Media Organisation

Vanguard, 19 August 2018

Senate President Dr. Bukola Saraki, on Sunday reacted to a statement credited to Buhari's Media Organisation, were the later cautioned and urged him to reconvene the Senate to… Read more »

Nigeria: Senator Calls for Probe of National Assembly's Budget Under Saraki

Premium Times, 19 August 2018

A federal lawmaker, Abdullahi Adamu (APC-Nasarawa), has called for probe into budgetary allocations to the National Assembly. Read more »

Nigeria: Why Saraki, Tambuwal, Others Left APC - Tinubu

Premium Times, 20 August 2018

Defectors who dumped the All Progressives Congress left because the party could not offer them what they wanted, All Progressives Congress (APC) national leader, Bola Tinubu, has… Read more »