Rights Groups Condemn Torture, Detention of African Journalists
Rights groups have slammed the growing harassment of the media in countries like Uganda, Nigeria, and Tanzania. Some Ugandan journalists who were reporting on protests supporting detained MP Bobi Wine were beaten by soldiers, while in Tanzania, journalist Sitta Tumma was arrested while covering an opposition campaign rally, ahead of a local authority by-election. Nigerian journalist Jones Abiri was released on July 27, two years after his arrest for allegedly supporting militancy. while Premium Times journalist Samuel Ogundipe was arrested -and later released on bail - for refusing to name his sources in a story about the police.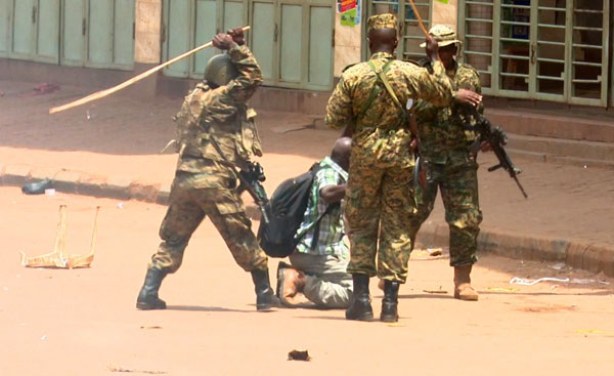 Ugandan soldiers beating up Reuters photojournalist James Akena as he covered the protests over the detention of several Opposition MPs in Kampala.
Uganda: TAEF Statement On The Attack On Journalists In Uganda

SANEF, 22 August 2018

The African Editors Forum (TAEF), the biggest organization representing editors across Africa, deplores, in the strongest possible terms, the terror campaign unleashed on the media… Read more »

Uganda: Stop Torturing People, Muslim Clerics Tell Govt

Monitor, 22 August 2018

During Idd prayers in different mosques across the country yesterday, Muslim leaders unanimously condemned the torture and use of excessive force in the arrest of Opposition… Read more »

Nigeria: Journalists, Activists Detained, Allege Torture

HRW, 21 August 2018

Several recent arrests and detentions of journalists and activists in Nigeria suggest a disturbing trend toward repression of freedom of expression, Human Rights Watch said today.… Read more »

Tanzania: Tanzania Police Detain Journalist Overnight On Allegations of Unlawful Assembly

CPJ, 21 August 2018

Police in Tanzania should drop allegations of illegal assembly against Sitta Tumma, a journalist who was arrested on August 8 and detained overnight, and investigate allegations… Read more »

Congo-Kinshasa: Two Journalists Arrested for Investigating Land Dispute

CPJ, 17 August 2018

Two journalists, Yolande Kusaya and Cédrick Kidimbu, with the privately owned Radio Lisanga Télévision (RLTV) were arrested in Nsele municipality of Kinshasa,… Read more »

Gambia: Journalist Brutally Assaulted and Arrested

IFJ, 22 June 2018

A journalist was brutally assaulted by the Gambian police while covering a story on 18 June. Read more »
InFocus
The Nigerian police began the prosecution of Premium Times journalist Samuel Ogundipe on Wednesday, denying him access to his lawyers. On Tuesday, three journalists from Premium ... Read more »

Jones Abiri, publisher and editor-in-chief of the Weekly Source newspaper, has been released. The State Security Service charged Abiri for supporting militancy on July ... Read more »