DP Ruto Slams Survey Ranking Him Among Most Corrupt in Kenya
In a tweet, which he later deleted, Deputy President William Ruto has warned his critics to refrain from accusing him of corruption just because he was not born into a wealthy family. This comes after an IPSOS-funded study which listed him and Kirinyaga Governor Anne Waiguru as the most corrupt political leaders in the country.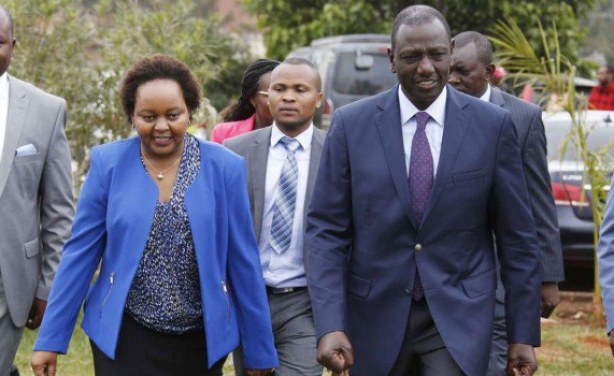 Deputy President William Ruto (right) with Kirinyaga governor Anne Waiguru when he met Kirinyaga county MCAs at his Karen residence office in Nairobi.
Kenya: Ruto Responds to IPSOS 'Most Corrupt' Ranking After Meeting Waiguru

Nairobi News, 23 August 2018

Deputy President William Ruto has said he will not be distracted by the under-the-table political tactics by his opponents. Read more »

Kenya: IPSOS Boss Tom Wolf Defends Corruption Survey Findings

Nairobi News, 23 August 2018

Ipsos Synovate lead researcher Tom Wolf has responded to Kirinyaga Governor Anne Waiguru's threats to sue the research firm following its recent survey which listed the former… Read more »

Kenya: Ruto Meets Waiguru a Day After IPSOS Ranks Them Most Corrupt

Capital FM, 23 August 2018

Deputy President William Ruto on Thursday held talks with Kirinyaga Governor Anne Waiguru, just a day after the two were ranked most corrupt leaders by an IPSOS research. Read more »

Kenya: William Ruto, Anne Waiguru Dismiss IPSOS Survey on Corruption

Nation, 23 August 2018

Deputy President William Ruto and Kirinyaga Governor Anne Waiguru have linked a survey released on Wednesday by Ipsos Synovate portraying them as corrupt to the 2022 succession… Read more »

Kenya: Waiguru - IPSOS Corruption Survey Findings is the Handiwork of My Political Enemies

Nairobi News, 22 August 2018

Kirinyaga governor Anne Waiguru has defended herself against findings of a recent survey by IPSOS which ranked her among the most corrupt political leaders in Kenya. Read more »

Kenya: Waiguru Slams IPSOS 'For Spreading Falsehoods' in Graft Survey

Capital FM, 22 August 2018

Kirinyaga Governor Anne Waiguru has dismissed a survey by Ipsos that ranked her second in a national corruption perception index released on Wednesday. Read more »

Kenya: Ruto - IPSOS Graft Survey Simply Cooked, Stage-Managed Finding

Capital FM, 22 August 2018

Deputy President William Ruto has dismissed a corruption perception index by IPSOS listing him top at 33 per cent as politically instigated and faulty. Read more »