Is Chamisa Taking Poll Challenge to AU Rights Body?
Opposition leader Nelson Chamisa has rejected the Constitutional Court decision that affirmed the election of President Emmerson Mnangagwa and has now said he will take the matter to the African Commission for Human and People's Rights, according to New Zimbabwe.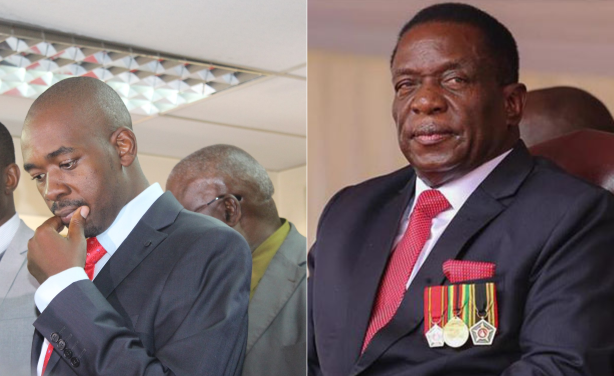 (Left) Nelson Chamisa and Emmerson Mnangagwa.
Zimbabwe: Mnangagwa Has His Work Cut Out

Zimbabwe Standard, 26 August 2018

President Emmerson Mnangagwa will be sworn in today to begin his five-year term after the courts declared him the winner of the recent controversial elections and he faces an… Read more »

Zimbabwe: Chamisa Rejects Mnangagwa Offer of Dialogue

Zimbabwe Standard, 26 August 2018

MDC Alliance leader Nelson Chamisa has rejected President Emmerson Mnangagwa's offer for dialogue after the acrimonious presidential election was concluded last Friday as the… Read more »

Zimbabwe: Spotlight On ED's New Cabinet

Zimbabwe Standard, 26 August 2018

President Emmerson Mnangagwa will have to demonstrate that he does not tolerate corruption by appointing a Cabinet that does not feature people with soiled reputations, a senior… Read more »

Zimbabwe: Moyo's Guard Tries to Kill Himself

Zimbabwe Standard, 26 August 2018

A police officer deployed to guard Zimbabwe Electoral Commission (Zec) member Qhubani Moyo's house in Bulawayo is battling for life after shooting himself in an alleged suicide… Read more »

Zimbabwe: Zimbabwe Faces Uncertain Future After Court Confirms Mnangagwa's Victory

New Zimbabwe, 26 August 2018

Zimbabwe faces an uncertain future after the country's constitutional court declared Emmerson Mnangagwa duly elected President, throwing out a petition by opposition leader Nelson… Read more »

Zimbabwe: U.S. Urges ED to Engage Opponents, Opposition to Respect Rule of Law

New Zimbabwe, 26 August 2018

THE United States Friday urged President Emmerson Mnangagwa to engage his political opponents and other stakeholders in efforts to restore sanity in a country torn apart by bitter… Read more »

Zimbabwe: MDC Alliance Backs Chamisa After Setback

Zimbabwe Standard, 26 August 2018

The MDC will meet on Wednesday to plot the way forward after its leader's election petition challenging President Emmerson Mnangagwa's election victory was thrown out by the… Read more »