Porn and Sex Tourism - The eSwatini Reed Dance Made Sleazy
Every year, tourists and the international media converge on the kingdom of eSwatini for the reed dance - a ceremony where dancers, some as young as 11 dance bare-breasted and in short skirts and some with no underwear in front of eSwatini King Mswati III. The ceremony, well known as the day King Mswati chooses a new wife, has led to photographs of the naked women and girls appearing on pornography websites across the world.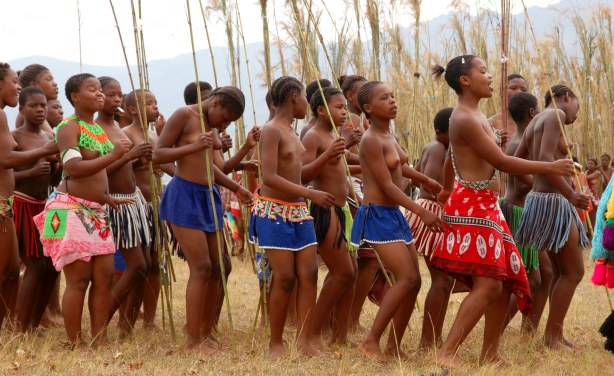 Reed dance (file photo).
Swaziland: Swaziland's Sinister Reed Dance

Swazi Media, 23 August 2017

Rehearsals for this year's Reed Dance in Swaziland have started and the maidens who dance bare-breasted in front of King Mswati III have been told by organisers they must wear… Read more »

South Africa: Umkhosi Womhlanga - Dancing Naked for the King

Guardian, 9 July 2018

The royal reed dance also called Umkhosi Womhlanga is an annual festival celebrated in South Africa. Girls from Zululand and small groups from Swazi land participate in this… Read more »
InFocus
More than 30 girls apparently refused to take part in the annual Reed Dance where virgins from all over the kingdom are required to dance topless. Read more »

Initial reports said 38 girls were killed, later updated to 65 - but police have contradicted that death toll, saying 11 young women and two men died. Journalists are also ... Read more »

Knig Goodwill Zwelithini has spoken out against the Commission for Gender Equality for their stance on the Maidens Bursary Award when he addressed 30 000 young women and ... Read more »