Why Bobi Wine Represents Such a Big Threat to Museveni
The growing popularity of MP Robert Kyagulanyi aka Bobi Wine and the reaction from Yoweri Museveni's government - police beatings, arrests, protests following a social media tax, and attacks on journalists - points to a turning point for the East African nation. Will 'People Power' prevail against what is being seen as the corruption-plagued former revolutionary movement the president leads?
Video
Author:

AllAfrica

Publisher:

Publication Date:

21 August 2018
Africa: Whither to Uganda?

Fahamu, 29 August 2018

The author argues that the People Power movement in Uganda has reached a point of no return in their efforts to bring about change in the country, but that they would require more… Read more »

Uganda: Between Museveni's Frying Pan and Bobi Wine's Fire

Independent (Kampala), 30 August 2018

Uganda has a new hero: Bobi Wine. He is being presented to us domestically and internationally as the symbol of our struggle for democracy, freedom, liberty and social… Read more »

Uganda: Bobi Wine - the Making of People Power

Observer, 29 August 2018

"People Power, Our Power" is a slogan that has in the recent weeks gained more public traction and recognition. Read more »

Kenya: Govt Demands Apology From Kenya Over Bobi Wine Protests

Observer, 30 August 2018

Government through the East African Affairs ministry has written to the parliament of Kenya demanding that its legislators apologise for allegedly abusing Uganda President Yoweri… Read more »

Uganda: As the Political Ground Shifts - Is it Time for Dialogue?

Monitor, 29 August 2018

There is already a ground shift from under the ruling NRM following the by-election in Arua and its aftermath and it is time for the party to wake up and smell the coffee. Read more »

Uganda: Woman Who Saw Bobi Wine Driver Killed Speaks Out

Nation, 29 August 2018

A woman nursing injuries in a Kampala hospital has said she witnessed the shooting of Ugandan MP Bobi Wine's driver earlier this month. Read more »

Uganda: Social Media Mobilisation Is a Bright Spot in Bobi Wine Saga

The Conversation Africa, 29 August 2018

President Yoweri Museveni has ruled Uganda with authoritarian firmness for the last 32 years. But even his most ardent supporters were shocked by the ferocity with which his… Read more »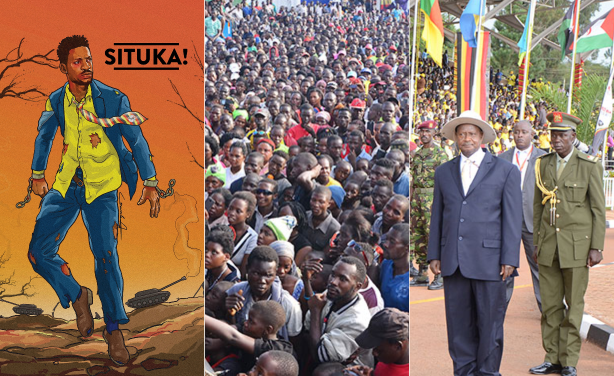 ...