Rwanda Gears Up For Parliamentary Elections
Voting material has been dispatched across the country as over 7.1 million Rwandans prepare to cast their votes in the parliamentary polls due to take place from September 2 to 4. 521 candidates are contesting for 53 parliamentary seats.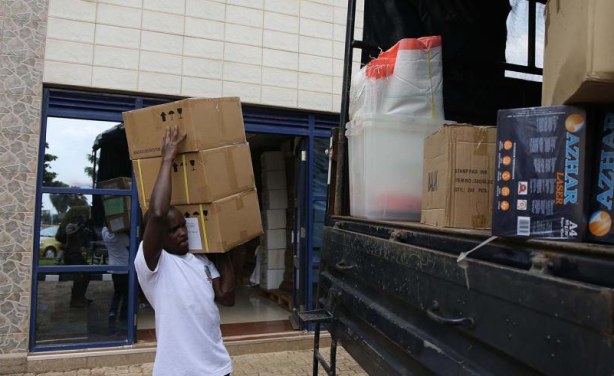 A National Electoral Commission employee loads a truck with materials and equipment that will be used during the parliamentary elections.
Rwanda: Observers Urged to Be Impartial During Elections

New Times, 31 August 2018

Election observers should be neutral and objective as they monitor parliamentary polls due to take place from September 2 to 4. Read more »

Rwanda: RPF Rallies Voters in Gasabo, Vows to Promote Family Welfare

New Times, 31 August 2018

Rwanda Patriotic Front (RPF) parliamentary candidates have vowed to advocate for policies and programmes aimed at improving family welfare. Read more »

Kenya: IEBC's Chebukati Skips House Session to Observe Rwanda Parliamentary Polls

Capital FM, 30 August 2018

The Independent Electoral and Boundaries Commission (IEBC) Chairman Wafula Chebukati and his team failed to appear before a parliamentary committee Thursday to answer MPs'… Read more »

Rwanda: Women Urged to Play a Greater Role in Elections

New Times, 28 August 2018

Charles Munyaneza, the Executive Secretary of the National Electoral Commission (NEC), has urged women and girls to massively participate in the upcoming parliamentary polls. Read more »

Rwanda: Parliamentary Polls - Kagame Rallies Gisagara Residents to Support RPF

New Times, 23 August 2018

Kagame said that citizens working hand in hand with RPF is the foundation of the progress the country has achieved thus far. Read more »

Rwanda: Over 600 Register to Observe Elections

New Times, 24 August 2018

With approximately one week to the parliamentary elections, the National Electoral Commission (NEC) says that it has so far registered 603 election observers. Read more »

Rwanda: Green Party Confident of Winning Parliamentary Seats

New Times, 23 August 2018

As the parliamentary elections draw closer, the Democratic Green Party of Rwanda (DGPR) is confident of securing seats in its first ever parliamentary campaigns. The party says it… Read more »

Rwanda: Green Party Campaigns in Huye, Vows to Revamp City

New Times, 27 August 2018

The Democratic Green Party of Rwanda has pledged to push for a revamp of Huye city as one of the country's secondary cities and to promote quality education for all to ensure… Read more »
InFocus
As parliamentary polls approach, candidates from different politicial divides have been making pledges in their quest to be elected into office, with some promising to address ... Read more »

The current parliament was officially sworn in in 2013 and is set to be dissolved on August 9, to pave way for the election of members which will take place between September 2-4. ... Read more »

National Electoral Commission officials have said that the number of political parties, independent candidates and individuals vying for special category positions have ... Read more »