Has Davido Broken the Law by Leaving his Corps Camp?
Many Nigerians have taken to social media to criticise the popular singer because he left the National Youth Service Corps camp just days after registering. Many feel this is against the law as corps members are expected to be at the camp during the three weeks' orientation programme. Davido jetted out to Boston in the United States ahead of his sold out Locked Up concert.
Nigeria: Has Davido Broken NYSC Rules?

Premium Times, 3 September 2018

Mixed reactions have trailed Davido's failure to fully observe the mandatory three weeks National Youth Service Corps orientation programme. Read more »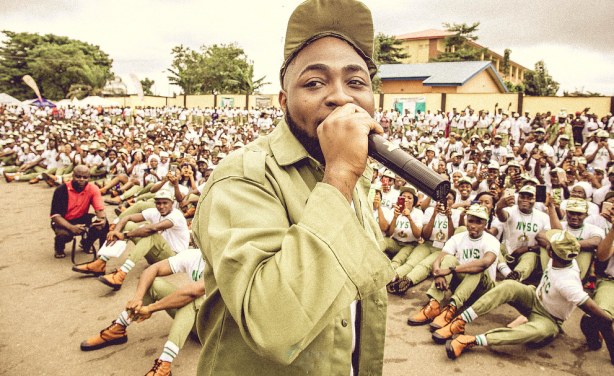 Davido at the National Youth Service Corps.
Nigeria: Did Davido Flout NYSC Bye-Laws By Travelling to Boston? - Nigerians Divided

Vanguard, 3 September 2018

Nigerian pop star, David Adeleke, popularly known as Davido, has come under fire for allegedly travelling to Boston for US Tour when he is supposed to be at the Lagos camp… Read more »

Nigeria: Davido Breaks Social Media With NYSC Uniform Showoff

This Day, 1 September 2018

One of Nigeria's biggest music brands, Davido tops the internet by surprise earlier this week when he posted a photo of himself glammed up in NYSC regalia. He showed everyone a… Read more »

Nigeria: Why I Registered for NYSC - Davido

Daily Trust, 1 September 2018

Latest corp member and Nigerian popular singer, Davido has revealed why he registered for the one-year mandatory National Youth Service Corps, NYSC. Read more »

Nigeria: Davido to Perform At J.cole's Dreamville Festival

Guardian, 1 September 2018

Davido makes the list in the lineup for J.Cole's Dreamville Festival. With this, the Nwa Baby will be the only African to perform at the festival. Read more »

Nigeria: See Hilarious Reactions to Davido's Arrival in Camp

Guardian, 31 August 2018

Since Davido's arrival at the Lagos State National Youth Service Corps (NYSC) camp, pictures have surfaced on the internet of his registration and his stage performance. Read more »

Nigeria: Davido Becomes a Corper

Guardian, 28 August 2018

Davido heeded the clarion call today as he headed to the National Youth Service Corps (NYSC), Lagos Camp. Read more »