All Eyes On Kenyatta As Uncertainty Over Fuel Tax Persists
Kenyans are eagerly waiting for President Uhuru Kenyatta to suspend the tax that led to the countrywide fuel crisis. Now Kenyatta faces a hard decision - approve the controversial 16% levy hike or rescind it and apparently risk undermining infrastructure plans and development goals key to his legacy.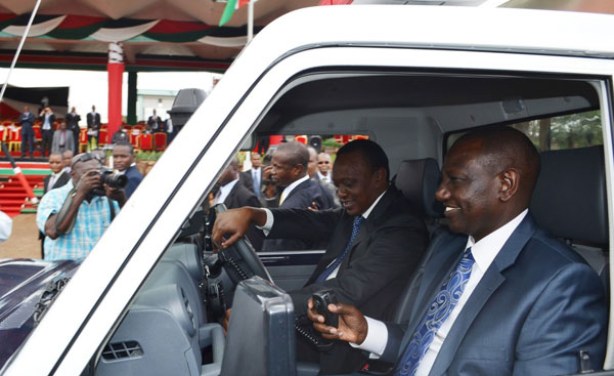 President Uhuru Kenyatta and his Deputy William Ruto (file photo).
Kenya: Revenue Authority Calls for Dismissal of Cases Against Vat On Fuel

Nation, 11 September 2018

The Kenya Revenue Authority wants four cases in the High Court challenging the 16 per cent VAT imposed on petroleum products dismissed, saying there is nothing unconstitutional… Read more »

Kenya: Higher Fuel Prices in Kenya Split Low-Income Families

Nation, 10 September 2018

The implementation of punitive tax measures has brought out the other side of Kenyans that we have never seen before. Read more »

Kenya: MPs, Treasury Set for Another Meeting to Address Fuel Tax

Nation, 9 September 2018

A high-level meeting bringing together Treasury technocrats and the National Assembly Budget Committee to address the crisis occasioned by the 16 percent value added tax on fuel is… Read more »

Kenya: Fuel Tax - Kenyatta Has to Pick IMF or the People

Nation, 9 September 2018

President Uhuru Kenyatta has perhaps one of the biggest decisions of his Presidency to make when he returns from his long trip overseas. Read more »

Africa: Kenya Now Among African Countries With Highest Fuel Prices

Nairobi News, 8 September 2018

Kenya has been ranked seventh among African countries with the highest fuel prices, according to Global Petrol Prices. Read more »

Kenya: Treasury Rejects Petrol Tax Order

Nation, 7 September 2018

Kenyans were by last evening yet to enjoy a reduction in fuel prices ordered by the High Court, as Treasury secretary Henry Rotich remained reluctant to act on the ruling delivered… Read more »

Kenya: Commuters Dig Deeper Into Pockets As Operators Cover Losses

Nation, 7 September 2018

Commuters at the Coast will pay more to use Public Service Vehicles and tuk tuks as operators have hiked fares due to the fuel tax. Read more »
InFocus
The fuel crisis has been blamed on oil marketers who refused to restock the all-important commodity in protest of VAT increase on petroleum products. President Uhuru Kenyatta has ... Read more »

The High Court has declined to suspend the 16% VAT on petroleum products despite the Central Organisation for Trade Unions arguing that the National Treasury, Energy Regulatory ... Read more »

Kenyans have continued to pile pressure on President Uhuru Kenyatta to suspend the implementation of the 16% levy on petroleum products. Commuters have begun feeling the pinch ... Read more »