Govt Scrambles to Contain Cholera As Death Toll Rises in Zimbabwe
In just two weeks, the cholera outbreak gripping Zimbabwe has claimed at least 32 lives and more than 7,000 cases have been reported. The government has declared a public health emergency in the capital Harare, the worst affected area - with a leading teachers' union calling for schools to be closed until the outbreak is contained.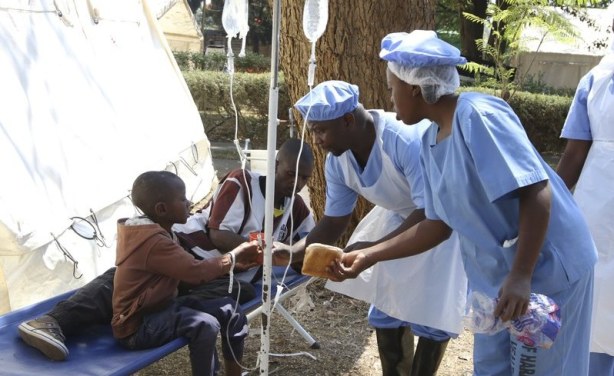 Cholera treatment in Zimbabwe.
Zimbabwe: Cholera Cases Continue Declining

The Herald, 21 September 2018

Cases of suspected cholera are beginning to decline in Harare following massive interventions put in place by the Government and its partners, Harare City acting health director Dr… Read more »

Zimbabwe: Cholera Outbreak Takes Toll On Poor and Overpopulated Urban Communities in Harare

Daily Maverick, 20 September 2018

There is fear and uncertainty in Zimbabwe's capital as people at the centre of the latest outbreak struggle to cope with the effects on their lives. The cholera outbreak in… Read more »

Zimbabwe: Cholera Death Toll Hits 30

The Herald, 17 September 2018

The number of people who have died of cholera has risen from 28 to 30 as Government, Harare City Council, the police and other stakeholders continue to make concerted efforts to… Read more »

Zimbabwe: Cholera Outbreak in Harare Is Govt's Baby

New Zimbabwe, 19 September 2018

Harare has been hit by a deadly cholera outbreak, the death toll has surpassed 30 with over 5000 cases reported. Read more »

Zimbabwe: Cholera Outbreak 'Under Control'

The Herald, 17 September 2018

The cholera outbreak in Gokwe North is under control despite an increase in cases recorded in the last few days. Read more »

Zimbabwe: Govt Struggles to Contain Cholera Outbreak

Deutsche Welle, 16 September 2018

The capital Harare has been inundated by the outbreak, with more than 3,000 cases reported. NGOs have accused the government of spending state cash on luxury items instead of… Read more »

Zimbabwe: Cholera Catches Up With Bulawayo, Cases Traced to Harare

New Zimbabwe, 16 September 2018

THE city of Bulawayo, which has remained a relatively free spot for cholera and other waterborne diseases outbreak, has recorded four suspected cases of the deadly disease with… Read more »

Zimbabwe: Of Cholera, Perks and Poor Performance

The Herald, 19 September 2018

The cholera outbreak, which was reported in Harare at the beginning of this month, has so far claimed the lives of 31 people from the over 5 000 reported cases. Read more »

Zimbabwe: Cholera - Dirty Pandemic, Dirtier Politics

The Herald, 17 September 2018

A pall has been cast over Zimbabwe as the cholera pandemic has ravaged Harare's suburbs with the grim prospects that the outbreak could spread, claiming more lives. Read more »