Uganda's Mugisha Muntu, Bobi Wine Alliance Plan In The Pipeline?
Former president of Uganda's main opposition party Forum for Democratic Change, Mugisha Muntu, has announced that he is quitting to form another political party. Muntu, who earlier lost the FDC presidency to Patrick Oboi Amuriat, made the announcement in a short Facebook post.
Uganda: Ugandans React to General Muntu's Exit

Monitor, 26 September 2018

Several Ugandans took to social media to express their feelings and opinions about the announcement that former president of the Forum for Democratic Change (FDC), Maj Gen (Rtd)… Read more »

Uganda: Who is Major General Mugisha Muntu?

Monitor, 27 September 2018

Born in October 1958 in Ntungamo District, Maj Gen Gregory Mugisha Muntu is described by those close to him as a principled and unwavering military officer and politician. Read more »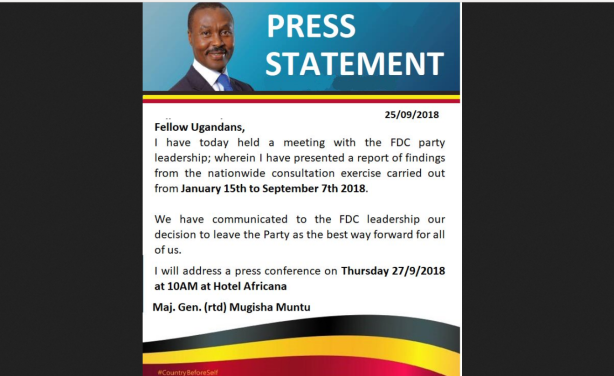 Gregory Mugisha Muntu statement.
Uganda: Mugisha Muntu, Bobi Wine Plan Alliance

Observer, 26 September 2018

In dramatic fashion at about 3pm, Mugisha Muntu's handlers prematurely announced the major general had left FDC, a party he led strenuously from 2012 to 2017. Read more »

Uganda: We All Can Harvest Bob, Red and People Power

Observer, 26 September 2018

The country has spent the last 43 days discussing the outcome of the August 15 by-election in Arua municipality and it is not about to stop. Read more »

Uganda: Why We Have Left - Former Opposition FDC's General Muntu

Observer, 26 September 2018

After a bruising tenure as president of FDC from 2012 to 2017 and an equally divisive, and unsuccessful re- election bid in November last year, Maj Gen Mugisha Muntu publicly… Read more »

Uganda: Muntu Quits Opposition Forum for Democratic Change

Monitor, 25 September 2018

Former Forum for Democratic Change (FDC) president, Gen Mugisha Muntu on Tuesday announced his departure from the biggest opposition party in Uganda. Read more »
InFocus
Kyadondo East MP Robert Kyagulanyi has warned Ugandan President Yoweri Museveni to realise that there will be a time when he will not be in power. Kyagulanyi - also known as Bobi ... Read more »

Ugandan MP Robert Kyagulanyi, better known as Bobi Wine, says he is going back to Uganda after spending time in the U.S. where he was receiving treatment for injuries sustained ... Read more »

Police have confirmed that Bobi Wine's brother Eddie Yahwe is one of the people arrested together with some journalists at the Entebbe International Airport where he had gone to ... Read more »