Kenyan TV Anchor Jacque Maribe Comes Out of Hiding
Citizen TV journalist Jacque Maribe arrived at the Kilimani Police Station, accompanied by a lawyer and members of her family after spending hours in hiding and not answering her phone. Police said that they are not treating her as a suspect but are interested in her side of the story.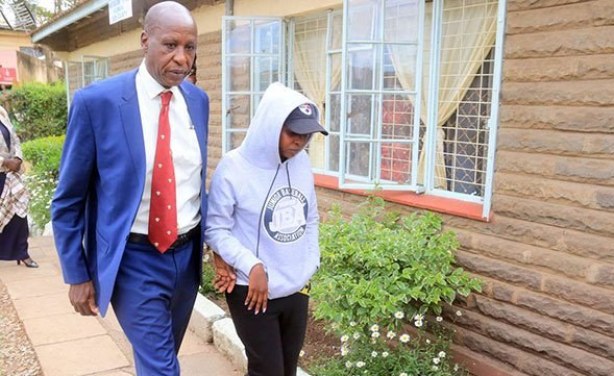 Journalist Jacqui Maribe leaves Kilimani Police Station on September 27, 2018 after being questioned over the murder of Monica Kimani.
Kenya: Jacque Maribe Comes Out of Hiding

Nation, 28 September 2018

Detectives investigating the murder of Monica Kimani on Thursday interrogated TV journalist Jacque Maribe to corroborate a statement made by the main suspect, 28-year-old Joseph… Read more »

Kenya: Puzzle of Gun, Bullet Found in TV Anchor Maribe's Bedroom

Nairobi News, 28 September 2018

Detectives investigating the murder of Monica Kimani on Thursday interrogated TV journalist Jacque Maribe to corroborate a statement made by the main suspect, 28-year-old Joseph… Read more »

Kenya: Land Cruiser V8 and a House - Father Reveals Late Monica's High Life

Nairobi News, 28 September 2018

The father of the late Monica Kimani has revealed how his daughter had amassed wealth before her life was snuffed out by a cold killer's knife. Read more »

Kenya: TV Presenter's Car Dusted for Evidence in Monica Kimani's Murder Probe

Capital FM, 27 September 2018

Scenes of Crimes personnel from the DCI headquarters have dusted a car belonging to Citizen TV Presenter Jacque Maribe for evidence in the murder of Monica Kimani-the woman… Read more »

Kenya: TV Anchor Maribe Questioned But Not Suspect in Kimani Killing

Capital FM, 27 September 2018

Citizen TV anchor Jacque Maribe was Thursday questioned by police in the ongoing probe into the murder of Monica Kimani - the woman whose body was found in a bathtub in Nairobi's… Read more »

Kenya: Emotions Run High at Monica Kimani's Requiem Mass

Nairobi News, 27 September 2018

Emotions ran high Thursday morning when hundreds of mourners gathered at Mt Kenya University's happy valley grounds in Thika for the requiem mass of slain 29 year old businesswoman… Read more »

Kenya: TV Anchor Jacque Maribe Grilled By Police, Fingerprints Taken

Nairobi News, 27 September 2018

Citizen TV anchor Jacque Maribe presented herself to police on Thursday afternoon accompanied by close relatives to record a statement on the gruesome death of Monica Kimani. Read more »

Kenya: Detectives Impound Jacque Maribe's Car for Forensics - Photos

Nairobi News, 27 September 2018

Forensic detectives in Nairobi on Thursday impounded Citizen TV anchor Jacque Maribe's car to search for evidence in the murder of a woman in Kilimani. Read more »

Kenya: Murder Suspect Wanted to Have Affair With Monica - Kin

Nairobi News, 27 September 2018

The brother of the woman who was killed under mysterious circumstances in Kilimani Estate now claims the prime suspect had wanted an affair with his late sister. Read more »

Kenya: Kilimani Murder - Police Think Suspect's Gunshot Wound Is a Hoax

Nairobi News, 27 September 2018

Detectives are probing whether Joseph Irungu, the man at the centre of the cruel murder of Monica Kimani last Thursday, might have faked a gunshot wound on his left shoulder to… Read more »

Kenya: Monica's Father Forgives Her Killers, Reveals Her Plan to Buy Him a V8

Capital FM, 27 September 2018

The father of the late Monica Kimani who was murdered at an apartment in Nairobi's Kilimani area says he has forgiven her killers, during an emotional requiem mass held at the… Read more »
InFocus
Citizen TV anchor Jacque Maribe's phone is ringing unanswered as police look for her to confirm the alibi of her fiance Joseph Irungu in connection with the murder of 28-year-old ... Read more »