Namibian President Calls for Expropriation of Land
Namibian President Hage Geingob has said he will push forward with expropriating land and redistributing it to the majority black population in the country. "Many Namibians were driven off their productive land," said Geingob as he opened a national land policy conference in Windhoek. During his speech, he pointed to similar proposals made by South Africa's government.
Namibia: Who Owns the Land?

Deutsche Welle, 3 October 2018

Nambia is currently holding a weeklong conference on land reform. It hopes to reach a solution on the unfair distribution of land between the black and white populations. But not… Read more »

Namibia: Why Namibians Want Fresh Impetus Behind Land Reform

The Conversation Africa, 26 September 2018

Twenty-eight years after independence, wealth in Namibia is still skewed along racial lines laid down in the colonial period. The level of inequality is one of the highest in the… Read more »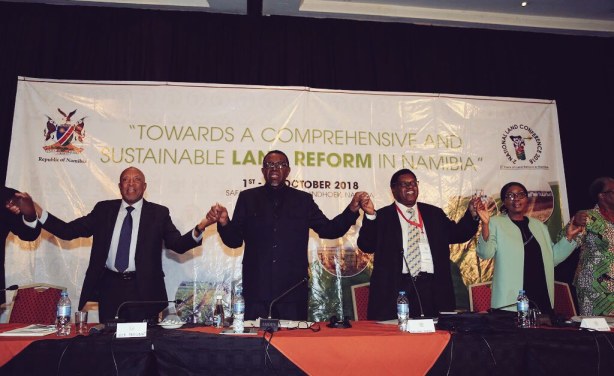 The opening of the conference on land in Windhoek.
InFocus
In a 30-page leaked document, Thabo Mbeki states that taking land from white people to give to black people suggests that whites are not "fully South African" to the ruling African ... Read more »

President Cyril Ramaphosa has said in parliament that if land reform did not happen, it would lead to instability. He said that there is "an increasing consensus at home and abroad ... Read more »

In a move they say would address the injustices of land lost by indigenous groups during colonial times, locals in Namibia's Khomas region have recommended that the ... Read more »