Fighting In Eastern DR Congo Hampers Efforts to Combat Ebola
Efforts to combat the Ebola outbreak in the DR Congo are being hampered by rebel fighting, say UN agencies. Reuters reports that three volunteers from the International Committee of the Red Cross who were helping bury an Ebola victim were injured in an attack by villagers, prompting the ICRC to suspend burials in the area.
World Health Organization chief, Dr Tedros Adhanom Ghebreyesus, has tweeted that: "The deteriorating security situation & some community mistrust are extending the long tail of the #Ebola outbreak in #DRC . WHO has increased its risk assessment of regional spread to very high."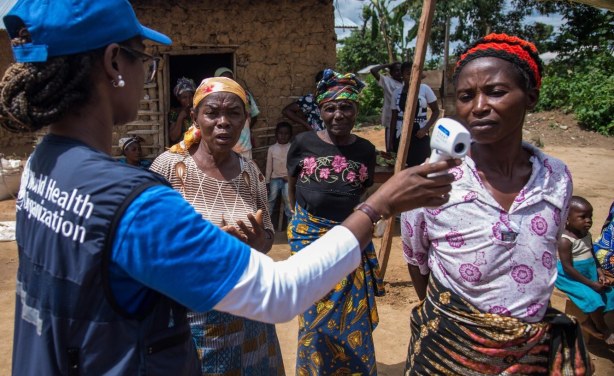 A World Health Organization official working to contain Ebola.
Congo-Kinshasa: Rebel Attacks Rise in Ebola-Infected Areas in Eastern DRC

VOA, 1 October 2018

A rise in violence in the eastern Democratic Republic of Congo is displacing more people and hampering humanitarian efforts, including operations to stop the spread of Ebola, the… Read more »

Congo-Kinshasa: Upsurge in Killings in 'Ebola Zone'

HRW, 3 October 2018

Unidentified fighters have killed more than 1,000 civilians in Beni territory in eastern Democratic Republic of Congo in a series of massacres beginning four years ago, Human… Read more »

Africa: WHO Scales Up New Front Against Ebola

WHO, 28 September 2018

BENI, Nord Kivu Province, 25 September 2018 (WHO) - The World Health Organization (WHO) is working in close coordination with the Ministry of Health and with the support of other… Read more »

Congo-Kinshasa: Latest Ebola Bulletin From WHO

WHO, 27 September 2018

The Ebola virus disease (EVD) outbreak in North Kivu and Ituri provinces, Democratic Republic of the Congo continues to evolve. Read more »

Uganda: Uganda Steps Up Ebola Preparedness Response in 22 High-Risk Districts

WHO, 27 September 2018

On 1 August 2018, the Democratic Republic of Congo (DRC) declared an Ebola Virus Disease (EVD) outbreak in North Kivu Province, close to the DRC-Uganda border. As of 25th September… Read more »

Congo-Kinshasa: Rebels Attack Ebola-Ridden Area

Deutsche Welle, 23 September 2018

More than a dozen people died as machete-wielding rebels attacked a town in the Democratic Republic of Congo. Public health operations to tackle an Ebola outbreak that has killed… Read more »

Congo-Kinshasa: Plot, Poison, or Curse? Ebola Rumours Spread in Congo

Thomson Reuters Foundation, 20 September 2018

Some think the disease is a plot to kill off opposition voters. Others believe it is a money-making scheme by foreign groups. Read more »
InFocus
What makes the DRC a particularly difficult case for the Ebola response is the ongoing conflict in the two eastern DRC provinces due to the presence of armed groups. T Read more »

In worrying developments in the Democratic Republic of the Congo Ebola outbreak, a patient with the virus died in Butembo, a city of nearly 1 million people, while cases mounted in ... Read more »

Rebel violence in eastern Democratic Republic of the Congo is escalating inside the vast country's Ebola-hit North Kivu province, putting millions at risk, the UN refugee agency ... Read more »