Melania Trump In Five-Hour Whistlestop Visit to Malawi
On her second stop on her four-country African tour, the U.S. First Lady Melania Trump visited Chipala Primary School in Lilongwe and observed lessons being conducted. The school is one of many receiving aid from the U.S. Agency for International Development. Trump will return to Washington on October 7, after concluding her visits to Kenya and Egypt.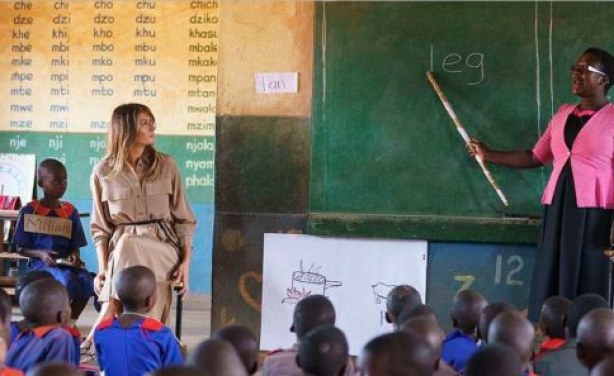 Melania Trump in a classroom during an English lesson.
InFocus
Melania Trump is on a two-day visit to highlight United States' support in early-childhood education, wildlife conservation and HIV prevention. She brings to Africa her 'Be Best' ... Read more »

The U.S. first lady will highlight the work of the United States Agency for International Development in Africa, which focus on agriculture, health care, governance and climate ... Read more »

Melania Trump landed in Ghana on Tuesday as she began her first-ever visit to Africa. She will also make stops in Malawi, Kenya and Egypt. The White House described the trip as a ... Read more »