Will Mnangagwa's Govt Pay Compensation For 1980s Atrocities?
The Emmerson Mnangagwa-led government must pay Matebeleland province U.S.$100 billion in compensation for Gukurahundi and other multiple level damages suffered under successive Zanu-PF administrations since Zimbabwe's independence, opposition politician Paul Siwela has said.
Gukurahundi referes to the series of massacres carried out by the notorious Fifth Brigade army unit that allegedly massacred over 20 000 civilians - members of the country's ethnic minorities living in the opposition strongholds of Matabeleland and parts of the Midlands provinces.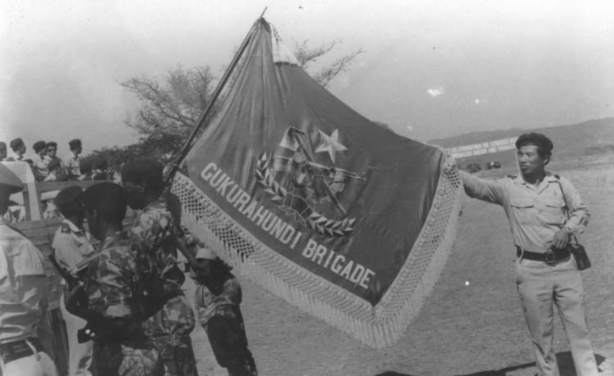 ...
Zimbabwe: 'Traditional Leaders Must Help 1980s Massacre Victims' Children'

New Zimbabwe, 7 October 2018

Traditional leaders should help Gukurahundi victims secure birth certificates and other national registration documents, a junior government minister has said. Read more »

Zimbabwe: Intwasa Arts Festival Roars to Life

The Herald, 26 September 2018

The City of Kings set a glow last night with the premiere of Umkhathi Theatre Works' "Bloom Bloom", a musical dance production about rebirth, regeneration and blooming,… Read more »

Zimbabwe: Mnangagwa Says Ready to Issue Gukurahundi Apology

New Zimbabwe, 23 September 2018

President Emmerson Mnangagwa has finally promised to apologise on behalf of the Zanu PF led government's 1980s atrocities 20 000 civilians in the western parts of the… Read more »

Zimbabwe: Economy Will Be Among Africa's Best in Two Years - Finance Minister Ncube

New Zimbabwe, 25 September 2018

Finance and Economic Development Minister Prof Mthuli Ncube has said that Zimbabwe will join Africa's top six fastest growing economies in the next 24 months. Read more »

Zimbabwe: ED Slammed for Scrapping National Healing Ministry

New Zimbabwe, 11 September 2018

The silence around the National Peace and Reconciliation portfolio in President Emmerson Mnangagwa's new cabinet, speaks a lot on the Zanu PF led government's insincerity in… Read more »

Zimbabwe: Massacres - 'A Spiritual Issue That Needs to Be Handled By Chiefs', Says Ex-Minister

News24Wire, 10 January 2018

Zimbabwe's former war veterans minister Tshinga Dube has reportedly said that "there is little" that President Emmerson Mnangagwa's government can do to address the issue… Read more »