Ramaphosa Wins Plaudits for New South African Finance Minister
President Cyril Ramaphosa has appointed a former labour minister and central bank chief as South Africa's new Minister of Finance. Untainted by corruption or recent governing party infighting, Tito Mboweni is a popular choice among business and opposition parties. He replaces Nhlanhla Nene, who in a rare move in South Africa, accepted that his meetings with business associates of former President Jacob Zuma damaged his credibility and resigned his post.
President Cyril Ramaphosa congratulates new finance minister Tito Mboweni after his swearing-in.
South Africa: Moral Courage, Decency Irrelevant As Finance Minister Resigns

The Conversation Africa, 10 October 2018

South Africa's once-lauded, lately beleaguered Finance Minister, Nhlanhla Nene, has had his resignation accepted by President Cyril Ramaphosa. His successor, Tito Mboweni, becomes… Read more »

South Africa: New Finance Minister Enjoys Pilchards, Not Afraid of Being 'Spicy'

News24Wire, 9 October 2018

South Africa's fifth finance minister in less than three years, Tito Mboweni, is certainly relatable at a time of pinching pockets and questions over political policies. Read more »

South Africa: As Nene Falls On His Sword, Mboweni Makes a Comeback

News24Wire, 9 October 2018

As Nhlanhla Nene became the first victim of the state capture probe, an old hand in the economic cluster - Tito Mboweni - was appointed as his successor as Finance Minister. With a… Read more »

South Africa: Ramaphosa Appoints Former Central Banker as Finance Minister

Govt of SA, 9 October 2018

Fellow South Africans, Read more »

South Africa: EFF Welcomes Nene's Resignation, Calls for More Minsters to Follow Suit

News24Wire, 9 October 2018

The Economic Freedom Fighters have largely welcomed the news that President Cyril Ramaphosa accepted Nhlanhla Nene's request to step down as finance minister. Read more »

South Africa: Nene Facing Severe Credibility Problem As Mid-Term Budget Looms

News24Wire, 9 October 2018

As South Africa prepares for a mid-term budget - due to be delivered in two weeks' time - rumours are flying thick and fast about the fate of Finance Minister Nhlanhla Nene. Read more »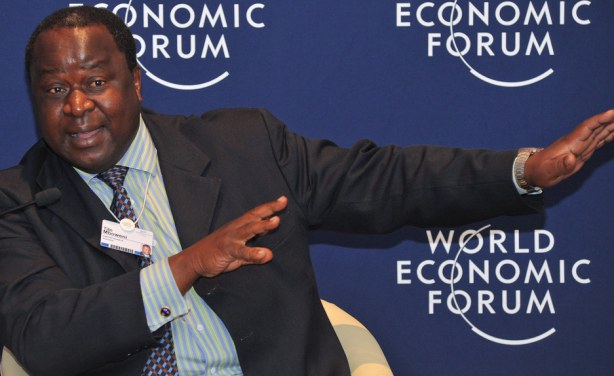 Tito Mboweni speaking at the World Economic Forum in his former capacity as chair of the AngloGold Ashanti gold mining company in 2011.
InFocus
South African Finance Minister Nhlanhla Nene has allegedly asked President Cyril Ramaphosa to relieve him of his duties, News24 reports. This comes after Nene offered testimony on ... Read more »