Renamo Claims Fraud During Mozambique Poll
Renamo national election agent Andre Majibire says an hour after the polling stations opened he received reports that, in the municipality of Maganja da Costa, the chairpersons of the stations were giving three ballot papers to voters whom they believed were members of Frelimo. When Renamo polling station monitors tried to protest to the police, they were beaten, Majibire says. Two other polling station officials were arrested in Nampula and Inhambane for allegedly handing out extra ballot papers to voters according to the anti-corruption NGO, the Centre for Public Integrity.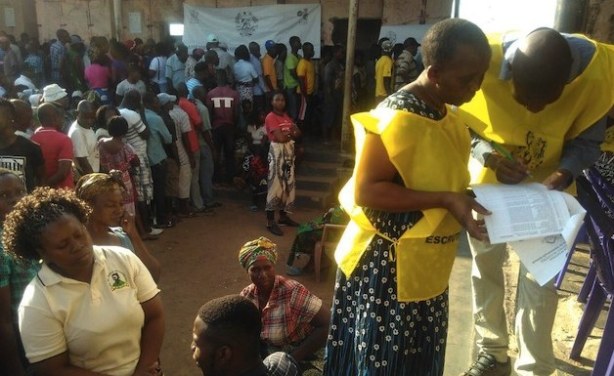 Renamo claims that extra ballot papers were given to Frelimo members during municipal elections.
Mozambique: First Renamo Win in Cabo Delgado, Frelimo Wins Manica Province

Mozambique News Reports And Clippings, 11 October 2018

The official website went off line at 10.00, but we have some additional reports. Read more »

Mozambique: Renamo Candidate Will Only Accept Results If No Fraud

AIM, 10 October 2018

Pemba (Mozambique), 10 Oct (AIM) - Antonio Vasco, the mayoral candidate of Mozambique's main opposition party, the former rebel movement Renamo, for the northern city of Pemba,… Read more »

Mozambique: High Levels of Abstention Feared in Maxixe

AIM, 10 October 2018

Maxixe (Mozambique), 10 Oct (AIM) - The Maxixe District Elections Commission (CDE) in the southern Mozambican province of Inhambane is worried at signs of a high level of… Read more »

Mozambique: Police At Door of Some Beira Polling Stations

AIM, 10 October 2018

Beira (Mozambique), 10 Oct (AIM) - At several polling stations visited by AIM in the central city of Beira on Wednesday morning, police officers were at the door of the stations… Read more »
InFocus
The main opposition Renamo party - running in the municipal vote for the first time in 10 years - have accused the ruling Frelimo party of violence but is hoping for a breakthrough ... Read more »

Mozambique holds local elections on October 10 in a vote that could test progress in the country's peace talks after a largely peaceful campaign although there have been a handful ... Read more »