Kenyan TV Anchor Maribe 'Mentally Fit' to Stand Murder Trial
Citizen TV journalist Jacque Maribe's lawyer has stated that Maribe will now take plea with her co-accused and fiance Joseph Irungu who is the main suspect in the murder of Monica Kimani, a 28-year-old businesswoman. Kimani was killed in her house and her body - with a throat slit from ear to ear, taped tied mouth and tied legs and hands - left in the bathtub with the water running.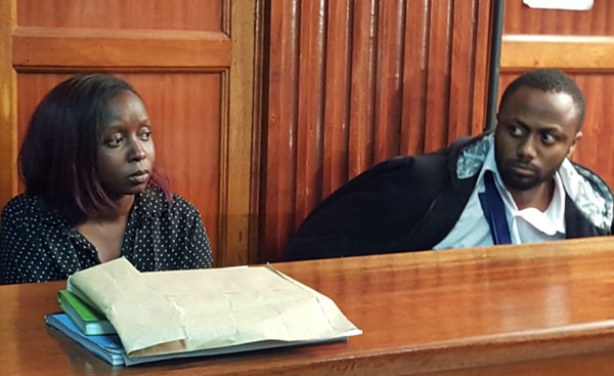 Suspects Jacque Maribe (left) and her fiancé Joseph Irungu at the Milimani Law Courts on October 9, 2018.
Kenya: Kassaine Chants 'Tibim' as He Walks Free Amid Monica Murder Probe

Capital FM, 11 October 2018

A smiling Brian Kassaine chanted 'Tibim' while raising his fist outside Court 4 at the Kiambu Law Courts after he was freed amid an ongoing probe into the murder of Monica Kimani. Read more »

Kenya: Kassaine Freed in Monica Murder Case, to Report to DCI

Capital FM, 11 October 2018

A Kiambu court has ordered the release of Brian Kassaine, who was being investigated over the murder of Monica Kimani. Read more »

Kenya: Jowie Isolated Man as He Shares Dock With Fiancée Maribe

Nation, 10 October 2018

The enduring image from Kilimani Law Courts in Nairobi on Tuesday was that of TV journalist Jacque Maribe lost in the embrace of her father Mr Mwangi Maribe. Read more »

Kenya: Top Cops Hunt for Suspect Filmed Leaving Monica's Kimani's House On Day of Murder

Nairobi News, 10 October 2018

Top investigators in the murder of Ms Monica Kimani have shifted operations to the Coast in search of what they termed "crucial materials and information". Read more »

Kenya: Monica Murder Probe Moves to Mombasa

Nation, 10 October 2018

Top investigators in the murder of Ms Monica Kimani have shifted operations to the Coast in search of what they termed "crucial materials and information". Read more »

Kenya: Maribe Sent to Prison Awaiting Mental Evaluation, Charges

Capital FM, 9 October 2018

The High Court has now ordered a mental assessment for Citizen TV journalist Jacque Maribe and medical treatment for her fiancé, Joseph Irungu alias Jowie, before they can… Read more »

Kenya: The Maribes Daddy-Daughter Moment Warms Hearts Online - Video

Nairobi News, 9 October 2018

A video of Citizen TV's Jacque Maribe's father cheering her up in court has gone viral online. Read more »

Kenya: TV Girl Jacque Maribe to Be Remanded at Lang'ata Women Prison

Nairobi News, 9 October 2018

Citizen TV anchor Jacqe Maribe and her fiancé Joseph Irungu, alias Jowie, will be remanded in custody until Monday when they will take pleas for the murder of Monica Kimani. Read more »

Kenya: Kassaine, Jowie and Maribe's Friend, to Testify Against Them in Murder Case

Nairobi News, 9 October 2018

Mr Bryan Kassaine Spira, the best of friend of Mr Joseph Irungu 'Jowie' and TV anchor Jacque Maribe, has turned State witness, according to the Nation's law enforcement sources. Read more »

Kenya: Watch - Jowie Attempts to Shield Jacque Maribe From Cameras in Court

Nairobi News, 9 October 2018

The romantic side of murder suspect Joseph Irungu, alias Jowie, played out in court on Tuesday as he shielded his fiancée Jacque Maribe from media cameras. Read more »

Kenya: Dennis Itumbi in Prayers Aas Jacque Maribe Heads to Remand

Nairobi News, 9 October 2018

Secretary of Digital Innovation and Diaspora in the Office of the President Dennis Itumbi is now in prayers as Citizen TV's Jacque Maribe heads to Lang'ata Women Prison. Read more »

Kenya: TV Anchor Jacque Maribe Snubs Jowie as Couple Reunites in Court - Photos

Nairobi News, 9 October 2018

Citizen TV anchor Jacque Maribe reunited with her fiancé Joseph Irungu, alias Jowie, in court on Tuesday, but they largely ignored each other. Read more »
InFocus
The Director of Public Prosecutions has ordered criminal charges against TV anchor Jacque Maribe and her boyfriend Joseph Irungu - also known as Jowie - over the murder of Monica ... Read more »

DNA tests results have indicated that Citizen TV journalist Jacque Maribe's fiance Joseph Irungu actually played part in the killing of Monica Kimani, a 28-year-old businesswoman. ... Read more »

Citizen TV journalist Jacque Maribe arrived at the Kilimani Police Station, accompanied by a lawyer and members of her family after spending hours in hiding and not answering her ... Read more »