Ramaphosa Must Come Clean on VBS Bank Scandal - Opposition Leader
Democratic Alliance leader Mmusi Maimane has said that his party is considering laying charges against President Cyril Ramaphosa following reports that he had prior knowledge of widespread looting at VBS Mutual Bank. The financial institution has been placed under curatorship by Reserve Bank governor Lesetja Kganyago.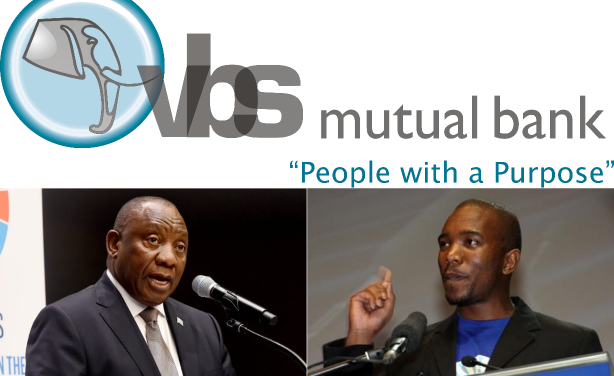 Top: VBS Mutual Bank logo. Bottom-left: President Cyril Ramaphosa. Bottom-right: DA leader Mmusi Maimane.
South Africa: Maimane - Ramaphosa Must Come Clean Over Claims He Knew About VBS Looting

News24Wire, 14 October 2018

The DA says its lawyers are considering laying charges against President Cyril Ramaphosa following reports that he had prior knowledge of widespread looting at VBS Mutual Bank but… Read more »

South Africa: DA MP Apologises to Malema for Tweet Alleging He Partly Owned Firm Linked to Troubled Vbs

News24Wire, 14 October 2018

DA MP Ghaleb Cachalia has apologised to EFF leader Julius Malema for his tweet claiming Malema owned 47% of Dyambeu Investments, which is linked to VBS Mutual Bank. Read more »

South Africa: VBS, Jacob Zuma and the 'Sham' Nkandla Bond He Couldn't Afford

News24Wire, 14 October 2018

ridden VBS Mutual Bank gifted former president Jacob Zuma an R8.5m bond which he could not afford, and at least nine months before any documents were signed to give the bank… Read more »

South Africa: Floyd Shivambu Denies Getting R10Million From VBS

News24Wire, 13 October 2018

EFF Deputy President Floyd Shivambu has denied receving R10m from embattled VBS Mutual Bank in his first direct response to the allegations against him and his brother Brian. Read more »

South Africa: ANC Referring Vbs Report to Its Integrity Commission

News24Wire, 13 October 2018

The office of the ANC's secretary general has referred the report on alleged R1.8bn fraudulent activity at VBS Mutual Bank to its Integrity Commission, the majority party said in a… Read more »

South Africa: VBS Scandal - PRASA Employee Hailed for Her Role in Saving R1 Billion

GroundUp, 11 October 2018

Yvonne Page's principled refusal to bend the rules saved PRASA from making a very bad investment, says Motau report Read more »
InFocus
Prominent opposition politician Floyd Shivambu of the Economic Freedom Fighters has been accused of receiving millions from VBS Mutual Bank, via his brother Brian. The bank's ... Read more »

The Reserve Bank's governor Lesetja Kganyago announced on Sunday afternoon that VBS Mutual Bank is to be placed under curatorship.South African news website ENCA Read more »