Afcon Qualifiers Enter Sink-Or-Swim Stage
The 2019 Africa Cup of Nations qualifiers have reached a crunch stage, with most southern African sides facing campaign-defining clashes. Teams such as Kenya, Egypt, Côte d'Ivoire, Guinea-Bissau and Senegal are on the verge of booking their places in Cameroon. But sides like Botswana and Angola can only hope for the best in their return leg matches.
Uganda: Qualifiers - Desabre's Strikers Finally Put Best Foot Forward

Monitor, 15 October 2018

For Lesotho's Likuena, this was a classic case of lightning striking twice. Their 2006 trip to the Mandela National Stadium in Namboole disintegrated with catastrophic results. A… Read more »

Congo-Kinshasa: What's Happening to DR Congo's Yannick Bolasie?

FirstTouch, 16 October 2018

"By the time Bolasie was shipped off on loan to the Championship, Theo Walcott, Ademola Lookman, Dominic Calvert-Lewin, Bernard and Richarlison were all ahead of him." - Tinotenda… Read more »

Madagascar/Swaziland: Afcon 2019 - Madagascar Are On Top of the Continent

CAJ News, 17 October 2018

CELEBRATIONS following Madagascar's historic qualification for next year's Africa Cup of Nations (AFCON) are a befitting end to about half a century of heartache for the Indian… Read more »

Namibia/Mozambique: Shalulile Takes Namibia Closer to Afcon 2019

Namibian, 16 October 2018

Peter Shalulile struck on 73 minutes to hand the Brave Warriors a much-needed 1-0 victory over Mozambique on Tuesday night, taking Namibia to seven points, and second in Group K of… Read more »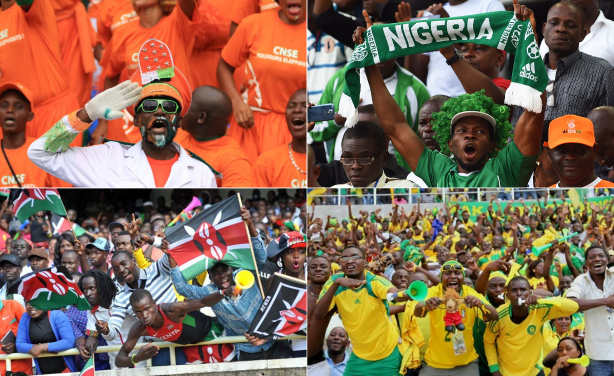 ...
Africa: Zimbabwe Nears 2019 Afcon Qualification

CAJ News, 16 October 2018

Zimbabwe Warriors have collected four crucial points against Democratic of Congo (DRC) following Tuesday's 1-1 draw in a well balanced Africa Cup of Nations (AFCON) Group G… Read more »

Malawi/Cameroon: Malawi Gave It Their All Against Cameroon

Nyasa Times, 16 October 2018

Hopes shattered as Malawi national football team failed to upstage stables against Cameroon in a pulsating, nerve-shredding African Cup of Nations (Afcon) qualifiers match at… Read more »

Gabon: Gabon Counting On Auba's Arsenal Form to Jumpstart Campaign

FirstTouch, 10 October 2018

Things will get heated in the men's 2019 Africa Cup of Nations qualifiers over the next couple of days. We are spoiled with two legged fixtures (matchday 3 and 4) for all the… Read more »

Seychelles/South Africa: Seychelles Dent Bafana's Hopes in Goalless Draw

CAJ News, 16 October 2018

REJUVENATED Seychelles held their highly rated South Africa to a goalless draw in an Africa Cup of Nations (Afcon) Group Group encounter at Unity Stadium in Victoria on Tuesday. Read more »

Nigeria/Libya: AFCON Qualifiers: Ighalo Nets Brace as Nigeria Beat Libya Again

Premium Times, 17 October 2018

Odion Ighalo was the main man for Nigeria again on Tuesday as the Super Eagles secured a vital 3-2 away win over Libya in the Africa Cup of Nations qualifying series. Read more »

Zambia: Shonga Becoming Chipolopolo's New Hero?

FirstTouch, 14 October 2018

The road to the 2019 Africa Cup of Nations finals, scheduled to take place in Cameroon from the 15th of June - 13 July, continued on Wednesday and throughout Thursday 11th of… Read more »

Kenya: Superb Harambee Stars On the Brink of Afcon Return

Nation, 14 October 2018

Harambee Stars moved close to booking a place at the 2019 Africa Cup of Nations (Afcon) finals with a convincing 3-0 win over Ethiopia in round four of the qualifiers played at a… Read more »

Zimbabwe/Congo-Kinshasa: Warriors in Epic Victory Over Star-Studded DR Congo

New Zimbabwe, 14 October 2018

Ten-men Zimbabwe Warriors took firm control of the 2019 Africa Cup of Nations Group G qualifiers following a shock 2-1 win over a star-studded Democratic Republic of Congo at the… Read more »

Tanzania: Let's Rally Behind Taifa Stars in Today's Afcon Match

Daily News, 12 October 2018

ALL the best Taifa Stars as you face Cape Verde in the 2019 AFCON qualifiers match in Praia today. The vital win will put Tanzania in a good position as we are yet to record a… Read more »

Ghana/Sierra Leone: Sierra Leone Suspension Postpones Ghana's Redemption

FirstTouch, 10 October 2018

Things will get heated in the men's 2019 Africa Cup of Nations qualifiers over the next couple of days. We are spoiled with two legged fixtures (matchday 3 and 4) for all the… Read more »

Kenya/Ethiopia: Kenya Snatch Valuable Point Against Ethiopia in Afcon Qualifier

Nation, 10 October 2018

A spirited Harambee Stars held Ethiopia to a scoreless draw in their 2019 Africa Cup of Nations (Afcon) Group "F" qualifier at Bahir Dar stadium on Wednesday afternoon. Read more »

Africa: CAF Backs Cameroon to Host Afcon 2019 Tournament

East African, 3 October 2018

Cameroonian authorities can now concentrate on preparing to host the 2019 African Cup of Nations (Afcon), knowing that they have the full support of the Confederation of African… Read more »

Kenya/Sierra Leone: What Sierra Leone's Ban Means for Kenya's Afcon Chances

Nation, 5 October 2018

The world football governing body Fifa on Friday suspended Sierra Leone Football Association from all activities with immediate effect due to government interference. Read more »