Frelimo Claims Landslide Win in Mozambique Polls
Mozambique's ruling Frelimo party has won the country's local elections in 44 of 53 municipalities, while the main opposition party, Renamo, won in seven municipalities, including Quelimane and Nampula. Frelimo has dismissed Renamo's fraud allegations.
Mozambique: Frelimo Victory in Maputo Confirmed

AIM, 14 October 2018

The Maputo City Elections Commission on Sunday announced the "intermediate count" from the municipal election held last Wednesday, confirming that the ruling Frelimo Party will… Read more »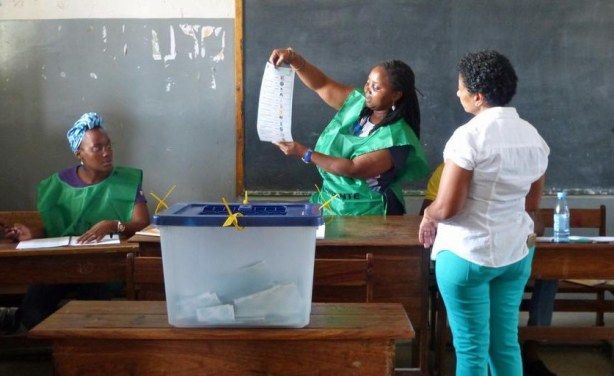 Polling station.
Mozambique: Frelimo Wins in Tete, Renamo Contests

AIM, 14 October 2018

The Tete District Elections Commission (CDE) in western Mozambique on Saturday declared that the ruling Frelimo Party has won the election for the Tete Municipal Assembly, held on… Read more »

Mozambique: MDM Victory in Beira Confirmed

AIM, 14 October 2018

The District Elections Commission (CDE) in the central Mozambican city of Beira, on Saturday evening announced the results from the "intermediate count" of the votes cast in… Read more »

Mozambique: Opposition Cries Foul Over Election

Mozambique News Reports And Clippings, 15 October 2018

Frelimo won Maputo city: Read more »

Mozambique: Renamo Wins in Cuamba

AIM, 13 October 2018

For the first time, Mozambique's main opposition party, the former rebel movement Renamo, has won control of a municipality in the northern province of Niassa. Read more »

Mozambique: Ruling Party Wins By Narrow Majority in Matola

AIM, 13 October 2018

The Maputo City Elections Commission announced on Saturday that Mozambique's ruling Frelimo Party has won the municipal election held on Wednesday, but with a majority of less than… Read more »

Mozambique: Peace Is Irreversible, Says Ruling Party

AIM, 13 October 2018

The peace process in Mozambique "is irreversible", declared Caifardine Manasse, the Central Committee Secretary for Propaganda and Mobilisation of the ruling Frelimo Party, on… Read more »

Mozambique: Renamo Members Accuse Their Leaders of 'Selling Votes'

AIM, 13 October 2018

Members of Mozambique's main opposition party, the former rebel movement Renamo, on Friday rioted against their own local leaders in three municipalities, accusing them of selling… Read more »

Mozambique: Renamo Claims Victory in Matola

AIM, 12 October 2018

Mozambique's main opposition party, the former rebel movement Renamo, on Friday claimed victory in Wednesday's municipal election in the southern city of Matola, which is the… Read more »

Mozambique: Strong Renamo Showing in Matola, Frelimo Victories in Gaza

AIM, 11 October 2018

The latest provisional results from the Mozambican municipal elections held on Wednesday show an unexpectedly tight battle in the southern city of Matola, where the main opposition… Read more »

Mozambique: Turnout in Some Maputo Polling Stations Very High

AIM, 10 October 2018

Turnout in at least some Maputo polling stations in Wednesday's municipal elections was much higher than initially expected. Read more »
InFocus
Renamo national election agent Andre Majibire says an hour after the polling stations opened he received reports that, in the municipality of Maganja da Costa, the chairpersons of ... Read more »

Mozambique holds local elections on October 10 in a vote that could test progress in the country's peace talks after a largely peaceful campaign although there have been a handful ... Read more »

The main opposition Renamo party - running in the municipal vote for the first time in 10 years - have accused the ruling Frelimo party of violence but is hoping for a breakthrough ... Read more »